A sand dollar is a marine animal named after its flattish, round shape that resembles a large coin. This type of animal belongs to a class of animals known as Echinoids and are close relatives of the sea urchin and starfish. Many people are familiar with sand dollars that have washed up on the beach, becoming bleached by the sun to a light sandy color. When this animal is alive however, it is darker in color and covered by tiny, mobile spines.
A sand dollar has a characteristic 5-petal design on its back produced by sets of large pores. When it is alive, rows of tiny tubular feet extend up through the pores. These respiratory stalks or podia act as gills by flushing water through the sand dollar to keep it oxygenated.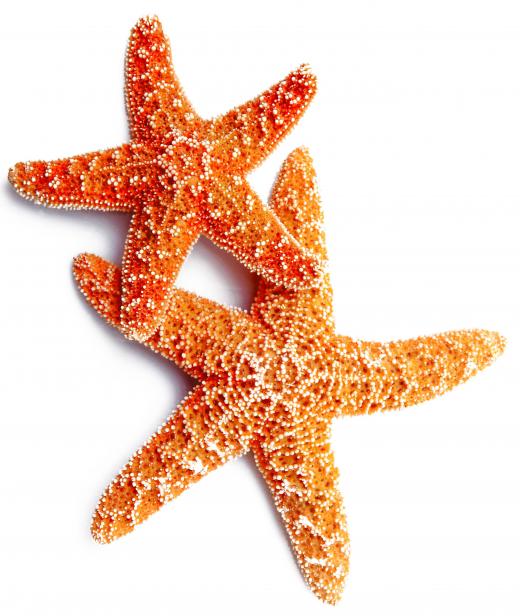 Most species of sand dollars live on or just under the seabed in muddy or sandy areas at depths of about 30–40 feet (9-12 meters). The tiny spines covering their exoskeletons are covered with minute hairs, or cilia. On the underside of the animal, these spines and hairs relay food particles along grooved lines in the hardened skin that lead to a central hole where the mouth is located. The spines and hairs also aid in movement along the sea floor.
The small, circular opening in the underside of the sand dollar hardly seems sufficient for a mouth, but this animal does have teeth. If you shake the bleached skeleton of a sand dollar (called a test) you'll likely hear something rattling inside. Break open the test and you'll find several small white pieces that served as teeth.
Sand dollars are usually found in large groups and have limited enemies due to the tough outer shell along with negligible inner meat. Some predators of these animals include starfish, snails and certain fish. The animal gives birth by releasing larvae through the top pores of the exoskeleton. The young are carried along ocean currents for miles, and those that survive go through many stages before developing the outer calcium-hardened shell of the adult sand dollar.
Sand dollars are found in coastal waters all over the world. People often collect them for their beauty, and the shells are also commonly found in decorative sea-themed art.
AS FEATURED ON:
AS FEATURED ON:







By: Giuseppe Porzani

Sand dollars are closely related to starfish.