A salt lick is a deposit of mineral salts used by animals to supplement their nutrition, ensuring that they get enough minerals in their diets. A wide assortment of animals, primarily herbivores, use salt licks to get essential nutrients like calcium, magnesium, sodium, and zinc. When a salt lick appears, animals may travel to reach it, so the salt lick becomes a sort of rally point where lots of wildlife can be observed.
Farmers have historically provided salt licks for their cattle, horses, and other herbivores to encourage healthy growth and development. Typically a salt lick in the form of a block is used in these circumstances, and the block may be mounted on a platform so that domesticated animals do not consume dirt from the ground along with the necessary salt. Salt blocks for farm animals can also be treated with medications, which may be convenient when someone needs to medicate shy animals, or a large group of animals.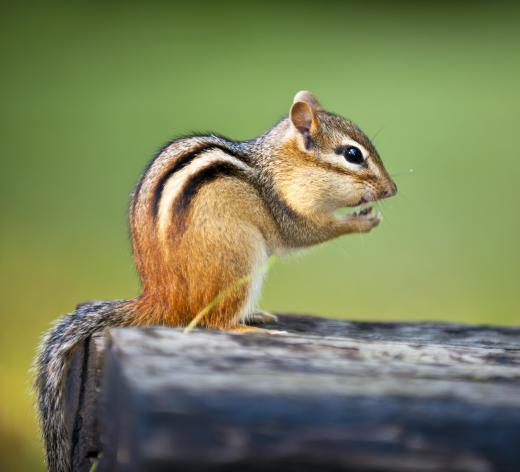 Some people also use artificial salt licks to attract wildlife such as deer and moose, along with smaller creatures like squirrels. Animals may be attracted purely for the pleasure of the humans who install the salt lick with the goal of watching or photographing animals around the salt lick, and they are also used by hunters to encourage potential prey to frequent an area. Wildlife biologists may use salt licks as well, to assist them in tracking populations, and wildlife salt licks can also be medicated; deer, for example, might be fed birth control to keep them from proliferating in areas where there are few natural predators.
Artificial salt licks for wildlife come in two forms: blocked and bagged. Bagged salt licks are designed to be buried in pits to create a more realistic form of salt lick, with the salts and minerals leaching out in wet weather to form a salt deposit which will attract animals. Block licks can be installed directly on the ground, or mounted on platforms, depending on personal taste.
The universal popularity of salt licks with a wide range of animals illustrates the ways in which wildlife naturally seek out nutrition which is essential to their survival. Salt licks can also provide nutrition for predators, in the form of conveniently-located prey who may be distracted by the salt lick long enough to become a snack.
What Are Salt Licks For?
Artificial salt licks are used to provide a source of nutrients that are already found in nature but in a concentrated form. Both wildlife and domesticated animals regularly visit salt deposits on instinct, particularly during the warmer months. There are two reasons why humans commonly construct salt licks: to observe wild animals in their natural habitat and maintain the health of livestock.
Nature Studies
Salt licks can attract many forms of wildlife to an area, allowing civilians and biologists alike to monitor them without physically interfering with natural behaviors. Placing a salt lick can be a better option than providing food sources for animals, as they can become dependent on humans for nourishment. Their ability to forage on their own may suffer if they come to rely on feeding stations from well-intended people. If a wild animal's diet consists of only one type of readily accessible food, its overall health may decline as a result. Plus, putting out food can become messy and expensive. Constructing a salt lick can be an unobtrusive way to draw in wildlife to the area, and the animals will still be responsible for locating their own resources.
Husbandry Practices
Many farmers and ranchers find artificial salt licks beneficial when caring for livestock such as cattle, horses, sheep and goats. There are two different formulas on the market to meet a herd's unique needs:
Salt only: These products are white in color and only contain sodium chloride and iodine. Ingesting salt replaces electrolytes that are lost from sweating and encourages water consumption.
Trace minerals: In addition to salt, this type of product contains mineral additives. They are typically red or brown in color and provide nutritional supplements to promote health.
How much salt and minerals a herd needs can depend on many things, including its overall diet, the health of an individual animal or the climate of an area.
Why Do Animals Need Salt Licks?
Salt licks are a convenient way to ensure our hoofed friends consume important nutrients that may otherwise be unavailable. This is especially true of herbivores that get most of their food from grazing in a pasture. Diets consisting mostly of grass, hay and other plants may not provide adequate nutrition on their own. This is why some animals need to use salt licks.
Some salt licks are the human equivalent of a multivitamin and may contain trace minerals such as calcium, iron and zinc to promote muscle and bone growth. Other elements, like chloride found in salt, are vital to the digestion process. Mineral blocks are commonly used to provide a variety of ingredients that can promote growth and longevity in livestock.
Salt licks without additional minerals serve a significant purpose as well, however. An available source of sodium boosts water intake and prevents animals from becoming dehydrated, which is crucial for survival in very hot environments. Much like the human equivalent of sports drinks, salt licks can restore an animal's electrolyte balance after lots of sweating and hard work.
Adequate salt intake is particularly important for horses and ponies, as these species are prone to a condition known as colic. Colic refers to abdominal pain or indigestion in horses and is caused by digestive imbalances or gastrointestinal issues. Unlike other animals, horses cannot regurgitate to ease an upset stomach, so their gut becomes distended. Colic can be deadly in some cases, so proactive measures must be taken to decrease its risk. Many horse owners prevent the condition by providing plenty of fresh water and regimented amounts of loose salt lick to ensure their animals stay hydrated.
AS FEATURED ON:
AS FEATURED ON:







By: Elenathewise

Salt licks are used to attract both large and small animals.

By: Chris Lofty

Salt licks may be used to attract deer and other wildlife.

By: wildnerdpix

Wildlife biologists may use salt licks to assist them in tracking populations, such as moose.