A chameleon is a type of color-changing lizard with distinctive head and facial ornamentation, independently-movable eyes with fused eyelids, and a long tongue with a bulbous, sticky muscle at the end. There are 160 species, found mostly in Africa and Madagascar, but also in small numbers in southern Europe, southern India, and Sri Lanka. A few isolated pockets of feral chameleons also exist in parts of California and Florida. These lizards are mostly arboreal, which means that they spend most of their time in trees.
One of the most frequent misconceptions about chameleons is that they change color to match their environment. This is not true, though the natural color of many species is closely matched to their environment anyway. Instead, they change color to reflect mood and ambient temperature. This is accomplished by chromotophores, special cells that can display a variety of pigments, including blue, pink, orange, red, black, green, yellow, and brown. The chameleon is among the most evolutionarily complex and intelligent of the color-changing animals. One of the only other relatively intelligent color-changing species is the Mimic Octopus.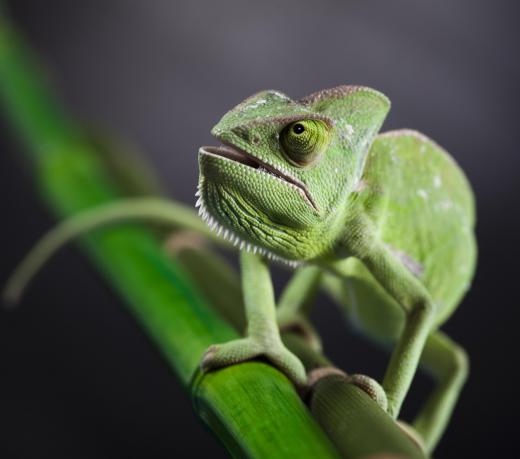 Different species vary substantially in size and body structure, from the 1.1 in (2.8 cm) long Brookesia minima to the 27 in (68.5 cm) Furcifer oustaleti. Brookesia minima, also known as the Tiny Ground Chameleon, lives in Madagascar and is among the smallest known vertebrates, living on a diet of small insects. Whatever their size, these lizards all share a similar foot structure, whereby two of their toes are fused to create a three-toed, tong-like structure that is ideal for grasping branches.
The chameleon is a highly developed lizard predator, specializing in insects. For a reptile, it has excellent vision, capable of focusing in on the smallest insects from half a foot (15.24 cm) away. When prey is sighted, it can eject its tongue from its mouth in a fraction of a second, hitting the insect before it has a chance to fly away. It then swallows its prey whole, as it lacks teeth to chew. Lacking an outer and middle ear, the lizard is not thought to be able to hear, though it may be able to sense vibrations with a small inner ear structure.
Chameleons are popular as exotic pets and in natural history museums. The public's fascination with them has made one of them the most well-known lizard families.
AS FEATURED ON:
AS FEATURED ON:







By: Sebastian Duda

There are 160 different species of chameleon.

By: Snowshill

A common misconception is that a chameleon will change color to adapt to their environment.

By: Ruslan Olinchuk

Most of the 10 species of chameleon are found in Africa and Madagascar.