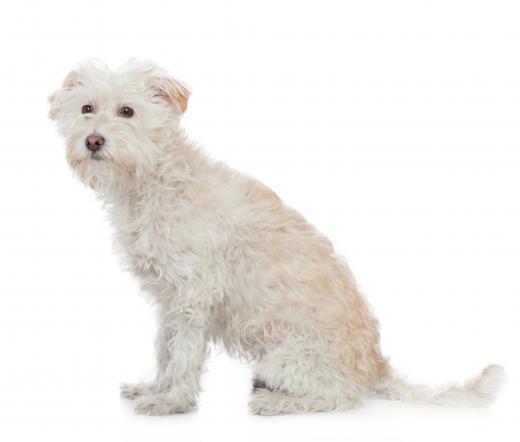 A bar mitzvah (or bat mitzvah for girls) is the traditional coming of age ceremony and/or party for a Jewish child who turns thirteen. In recent years, in a tradition that some call "newish," which is a combination of the words new and Jewish, some pet owners and some synagogues have begun to celebrate the light hearted tradition of a bark mitzvah, a time when either a dog's coming of age is recognized, or when a blessing is given to all pets, somewhat analogous to the Catholic blessing of the animals which many Catholic churches observe yearly in a special mass.
The bark mitzvah can be celebrated when a dog turns 13 (either in dog or human years), or may be celebrated at any time. Most guests bring their own dogs to the event, and special pet friendly Star of David cakes may be served. Sometimes the bark mitzvah is celebrated at doggy salons, with dogs receiving special baths and spa treatments. Other times, the events are elaborate and expensive, with the purpose of raising funds to benefit animal shelters or other specific charities. In this case, other families and pets may bring gifts to the celebrant dog, in the form of donations or checks.
There are a variety of opinions on this celebration. In some Jewish sects, it is viewed as a corruption of spiritual ideas. Others find the idea lighthearted and fun, and recognize that pets really can be important members of a family. In a way, the celebration is meant as something of a joke, even when it is elaborate, and there are many puns and plays on words of traditional Jewish texts and traditions. Those who celebrate a bark mitzvah generally mean it to be a fun event, and not to be taken terribly seriously or to diminish the importance of the bar or bat mitzvah.
Celebration of bark mitzvahs has led to some interesting new industries. For instance, doggy sized (and sometimes kitty sized) yarmulkes have never been in higher demand. When temples conduct more sedate bark mitzvahs, they may offer treats or such yarmulkes to all participating animals. Temples may also choose to perform blessing ceremonies outdoors so that any pet accidents don't ruin flooring.
It's probably a good idea to make sure any pet attending a bark mitzvah is well socialized with other dogs and won't have embarrassing accidents at a party, especially in people's homes or in elaborate settings. The wise planner of the bark mitzvah should have doggy bags on hand, and some good cleaning solution if any of the partying canines get overly excited by the events. These celebrations are expected to rise in popularity with the many people publishing pictures of their dogs' bark mitzvahs online, and also with the popular children's book with accompanying song CD Alfie's Bark Mitzvah, written by Shari Cohen.


By: Gelpi

A bark mitzvah celebrates the family dog.

By: Jan S.

The Star of David is a symbol often associated with Judaism.