What Are the Differences between Norfolk and Norwich Terriers?
Norfolk and Norwich Terriers are two of the smallest terrier breeds, often with caramel brown wiry coats and sturdy little bodies. They've both become immensely popular breeds as they tend to be well behaved, and easy to train. Both types of dogs have small litters, typically only two puppies at time, so getting a puppy of either breed can be difficult and expensive. Owners counter that the expense and the time spent in acquiring a puppy are well repaid by owning one.
Despite a similar look, Norfolk and Norwich Terriers were always two separate breeds, but until 1964, they were classified under the same group. In 1964, the United Kennel Club of Britain officially separated them into two breeds. This change would occur much later in the US, where they were not officially reclassified until 1979. This later change can partially be attributed to the scarcity of both types of dogs in the US until a few years ago.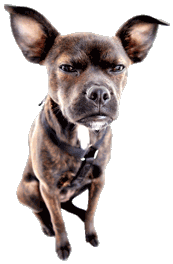 From a physical standpoint, the dogs have slight differences. Perhaps the most obvious is difference in ears. Norwich Terriers have prick ears — upright, pointy ones that make them look a bit like foxes. Norfolk Terriers have drop ears, featuring the classic soft foldover of the ears. The Norwich may have a slightly harder coat, while the Norfolk has slightly larger feet, and may overall weigh a bit more for its size and seem a little sturdier.
Additionally, the Norwich shoulder height is about 10 inches (25.4 cm), while the breed standard for the Norfolk is usually 10 to 12 inches (25.4 to 30.48 cm). Both dogs weigh between 10 to 12 pounds (4.5 to 5.4 kg). You'll commonly see both Norfolk and Norwich Terriers with the caramel coat, but either dog can be red, black and tan, or golden in color.
Breeders of Norfolk and Norwich Terriers also suggest the dogs can be different in personality. Norfolk are more inclined to chase prey, which may mean that a dog unaccustomed to small cats could be a problem. They are said to have great concentration and some owners report that the Norfolk will regularly watch television. Though both breeds make for good companions, Norwich Terriers tend to be more responsive to humans and depend on them more. The Norwich bark is a lower, gruffer sound than is the Norfolk's bark, which is a bit high and more like a small dog bark.
Unlike some of the other terrier dogs, these breeds are not prone to digging or chewing. Neither is prone to excessive barking. They both tend to do very well with young children, though it's best to be sure children don't accidentally fall on the dog. Still some breeders recommend not having terriers if you do have young children. If you're thinking of breeding either Norfolk or Norwich terriers, the Norfolk is by far easier. Most Norwich terriers need to deliver babies by cesarean section.
History of the Norwich Terrier
Like many small terriers, the Norwich Terrier was initially bred as a ratter in East Anglia. Somewhere between 1899 and 1902, a brindle-colored, mixed-breed female was crossed with a Cantab Terrier to produce puppies that were referred to as Trumpington Terriers. One of these puppies, named "Rags," is credited as the founding sire of the Norwich Terrier breed.
Before 1923, when the British Kennel Club first established a breed standard for the dog, there was not often a single breed standard that Norwich Terriers were bred to. As a result, it is believed that several breeds, including the Irish Terrier, may have played a role in the breed's development. The breed, as it is known today, is believed to be the result of crossing small Irish Terriers with other short-legged terrier breeds.
They became popular companion dogs for students at Cambridge in the 1880s. The breed first made its way to America after World War I and became a popular companion of equine enthusiasts and fox hunters. Being more sociable than many terrier breeds, the Norwich was often used in packs on foxhunts. Because the breed was first brought to the United States by a man named Frank Jones, it was known as the Jones Terrier in the United States for many years.
Personality of the Norwich Terrier
These dogs are described as fearless, happy-go-lucky and sometimes a bit bossy. They are high-energy dogs who love to play but are also affectionate and tend to enjoy a bit of lap time with their humans. The Norwich Terrier is clever but can be stubborn.
Norwich Terrier Health
The Norwich Terrier is a generally healthy breed but can be prone to accumulating plaque and tartar on the teeth. When choosing a puppy, it is recommended that you have a patella, hip and ophthalmologist evaluation done.
Grooming Needs of the Norwich Terrier
The Norwich Terrier has a harsh, almost waterproof, outer coat and soft undercoat. Hand-stripping is recommended to remove old outer hairs and excess undercoat. This keeps the coat shiny and maintains its rich color. Clipping or scissoring is not recommended for this breed because it removes the colored tips of the coat, resulting in a softer and duller-looking coat.
Exercise Requirements of the Norwich Terrier
Though the breed is seldom used for its original working purpose anymore, the Norwich Terrier still has its hunting instincts. These dogs are curious and energetic and require lots of exercise to stay in top condition. At least two long walks per day are recommended, though you may supplement this with lots of playtime in a fenced-in yard.
Prey Drive of the Norwich Terrier
These dogs were originally bred to be hunters and have a strong prey drive. It is recommended that they always be walked on a leash or let off-leash only in a securely fenced area. Underground electric fences are not recommended because many of these terriers will simply ignore the shock. In addition to chasing squirrels and other small wildlife, these dogs may view rabbits, gerbils and other small rodents as prey and are not recommended for homes with these types of pets.
Training a Norwich Terrier
Though, like most terriers, the Norwich Terrier is a high-spirited dog, they usually respond well to training and are happiest when given a job to do. They tend to do best with short, positive training sessions. Puppies need to be socialized to grow into adults with a friendly, outgoing personality that is typical of the breed. These dogs can be successful in a variety of dog sports, including earthdog, obedience, agility and barn hunt.
Norwich Terriers are usually not excessive barkers. Dogs who bark a lot are usually bored or underexercised. Though this breed tends to dig less than other types of terriers, some dogs may have a digging habit. In most cases, it is easier to train a terrier to dig in a designated area, than to break it of the habit completely.
The Norwich Terrier is an adaptable breed that can flourish in many environments. With proper training and exercise, these dogs can be excellent companions for apartment dwellers.
What To Feed a Norwich Terrier
The Norwich Terrier can thrive on any high-quality diet; however, the diet should be kept appropriate for the dog's age. The breed standard lists 12 pounds as the ideal weight, but these dogs can be healthy at different weights depending on their height, bone structure and muscle mass. Like most small dogs, these dogs can be prone to becoming overweight, so it is important to monitor how much you feed your dog, including any treats given during training or at other times.
AS FEATURED ON:
AS FEATURED ON:







Dog