What Should I Consider When Choosing a Horse?
Selecting a horse is exciting, whether it is your first or your fiftieth. It can open up a world of possibilities and fun, but it is also important to make sure that the horse will meet your needs as a rider. An ideal horse will perform well, stay healthy, and be pleasurable to work with, whether you are trail riding, using him or her for plowing, or participating in equestrian events like dressage and racing. Keep your needs and limitations in mind when looking around to ensure that you get the perfect one for you.
The first thing to think about is what the horse will be used for: pleasure riding, driving, dressage, jumping, eventing, racing, or working, for example. Next, think about the rider's experience. You may ask for a trainer's honest assessment of the rider's level of skills and the best type of horse as a result. You should also consider costs, including training level, breeding, history, and maintenance costs, including boarding fees, feeding, and veterinary care.
Also think about aesthetic and breed needs. Heavier riders will need larger, sturdier horses, while small and short riders would do well to think about ponies and small breeds. Certain breeds have characteristics that are favorable for some activities: Clydesdales, for example, drive very well, while Thoroughbreds are built for speed. If you prefer a particular coat color or breed, consider this when looking around; if you want a Palomino, you probably won't like a Paint.
Next, think about training. Many people prefer to buy already trained horses, so that they can get straight to work. If you want to conduct your own training, decide on whether you want a totally green horse, or a horse with some basic skills. Be aware that different styles of riding require different training: do not purchase a dressage horse for trail riding, for example, or a Western pleasure horse for English jumping. Age applies here since it's often directly related to how well trained trained and behaved a horse tends to be. Inexperienced riders, especially, would do well with a well-trained and well-behaved horse.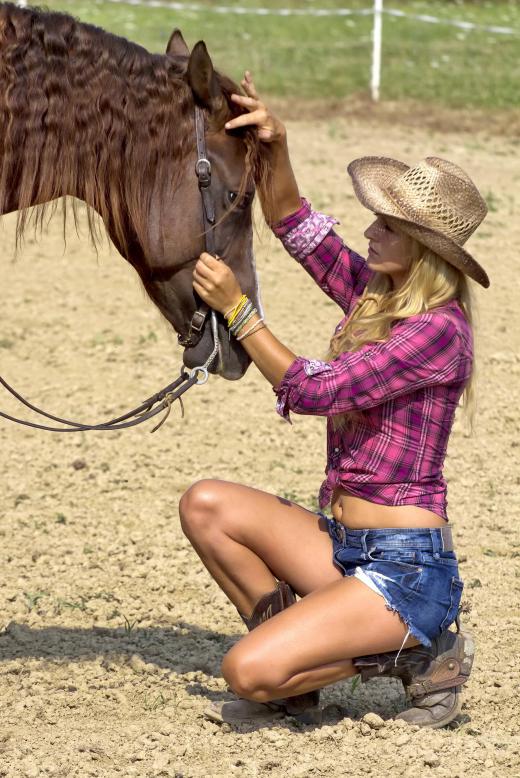 Once you have thought about needs and training, start checking what is for sale. Making several appointments will often help you understand the market and which horse is best for you. Inspection is important and so taking someone more experienced to help with this may be wise, especially if you are not familiar with what to look for. Things to inspect for include a clean, healthy coat, bright eyes, and any signs of sores and swelling. Ask the owners about the horse's history, and keep an eye on the horse's behavior. One stands quietly while being examined is a good candidate for purchase, while a horse which fusses, nips, or fidgets may be a trouble maker.
After you have met and examined the horse, spend some time using the horse as you would after your purchase it. Saddle it for riding on the trail or take it through a dressage routine in an arena, or harness it for driving or other work. While using the horse, watch for signs of lameness and poor behavior, and see how well the he or she responds to commands and guidance. Be certain to ask the owners about training and handling, and ask for some time to think the decision over. If you liked the horse, call the owners and ask for a second appointment, and bring a veterinarian along for a second opinion. If you are not interested, call the owners and inform them, as a basic courtesy.
AS FEATURED ON:
AS FEATURED ON:







By: Wendy Kaveney

Consider a horse's behavior before purchasing it.

By: virgonira

A horse should be saddled and taken for a ride before purchasing.

By: Wildcat

Most people prefer to purchase horses that have already been trained.

By: Justin 767

Before buying a horse, consider whether you want it for pleasure, work or competitions such as racing or show.