Turtle farming is a commercial pursuit by which turtles are bred, hatched, and raised for sale to the pet and food industries. The turtle farming industry is believed to have originated in the United States in the 1940s, with breeding turtles harvested from wild populations. Today, turtle farmers in the United States supply turtles to the pet and food industries in North America and Asia. Turtles are routinely eaten in Asia and in some rural parts of North America. Some ecologists are concerned about the human impact of meat harvesting on the world's wild turtle populations.
Farms that raise healthy, disease-free baby turtles are relatively common in the United States. Many American turtle farmers raise species such as the red-eared slider for sale as pets in the domestic market. Some turtle farmers even offer breeding pairs of pet turtles to their customers. Other species, such as green turtles, may be raised on farms for sale to the food market.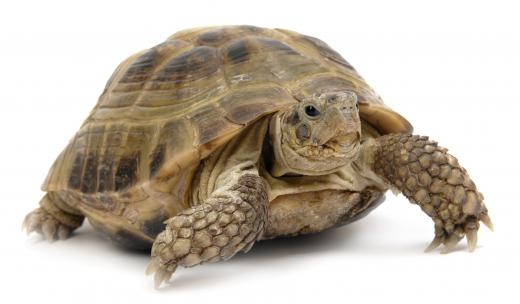 In the 1970s, the United States (US) Food and Drug Administration (FDA) banned the sale or distribution of hatchling turtles less than 4 inches (10.2 cm) in diameter, when it was discovered that some baby turtles offered for sale were carriers of salmonella. Turtle farmers now generally sterilize their turtle eggs, using a method known as Siebeling method. This method typically requires the eggs to be rinsed and then sterilized in a vacuum tank. The process doesn't normally harm the eggs, and can be used to ensure that the hatchling turtles are healthy.
On large turtle farms, the breeding turtles are typically kept in outdoor ponds. They are generally allowed to mate and lay their eggs undisturbed. Turtle farmers typically collect the eggs after they are laid, sterilize them, and then incubate the eggs in a temperature-controlled environment until they hatch. The baby turtles are usually examined by a veterinarian before being distributed.
American turtle farms also export turtles to the food industry, particularly in China and other parts of Asia. Turtles are also often considered a viable food source in many rural areas of the United States. They're also sometimes sought by Asian-Americans in urban settings.
The harvesting of turtles for meat in the United States and Asia is believed to pose a genuine threat to the world's turtle populations, as about 40 percent of the world's wild turtle species face extinction. Some US states have already outlawed the collection of wild turtles. Some conservationists hope that turtle farming can offer a supply of turtle meat that does not threaten wild turtle populations.
Turtles raised on farms are generally certified as safe for domestic and international distribution by the applicable health authorities. Most of the turtles raised for food in the United States are exported to Asian countries, especially China. Turtle farming is believed to be growing in popularity in China, where the consumption of turtle meat is often far more common than it is elsewhere.
AS FEATURED ON:
AS FEATURED ON:







A turtle.