What is the Wetlands Biome?
A biome is a community of flora and fauna which has adapted to particular conditions; biomes are also known as ecosystems. The wetlands biome is a biome characterized by damp conditions, leading to a diverse collection of species which enjoy this semi-aquatic environment. Examples of the wetlands biome can be found in almost every part of the world, except for regions which remain frozen year-round. Wetlands are believed to be very ecologically important because they provide shelter, food, and protection for a range of species, and they also act as buffer zones, protecting neighboring biomes from flooding and inclement weather.
The defining characteristic of a wetland is a large amount of water, either salt, fresh, or mixed. The wetlands biome typically has areas of standing water for much of the year; some wetlands are wet year round, while others run in a wet/dry cycle, in which the land experiences periodic periods of dryness. The standing water hosts aquatic plants and animals, along with transitional trees, shrubs, and animals which enjoy the food and shelter that the wetlands biome offers.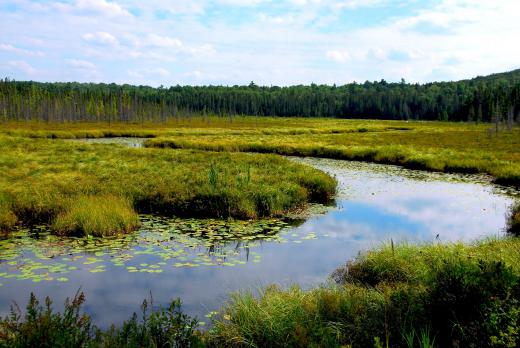 Aquatic plants like reeds and lilies are common, along with waterbirds like ducks, geese, swans, and herons. The wetlands biome also often hosts creatures like beavers, minks, and rats, and sometimes larger animals such as deer and moose will venture into wetlands for food and shelter. Trees like cypress and mangrove can also be found in the wetlands biome, along with shrubs such as cranberries. Studies of wetlands seem to indicate that they are among the most diverse places on Earth.
Marshes, bogs, and swamps are all considered wetlands. Swamps can run the gamut from the heavily forested mangrove swamps found along the shoreline in many nations to freshwater swamps in inland regions. Bogs are characterized by highly acidic conditions, created through slow decomposition of plants and animals and poor drainage. Wetlands act as large buffer zones, trapping floodwaters and rain so that drier ecosystems do not become waterlogged during storms and heavy weather.
Because wetlands straddle the divide between fully wet environments and entirely land-based ecosystems, they integrate characteristics of both ecosystems. They are also very fragile, and subject to damage through pollution, poor land management, and exploitative use of natural resources. Several conservation organizations are dedicated to the preservation of the wetlands biome around the world, and some groups also work to restore and expand existing wetlands.
AS FEATURED ON:
AS FEATURED ON:







By: Elenathewise

A wetland.

By: awhelin

Deer might seek food and shelter in a wetlands biome.

By: Eric Isselée

Minks are often found in the wetlands biome.

By: Aleksey Stemmer

All types of swamps are considered wetlands.

By: Evgenia Tiplyashina

Swans are commonly seen in the wetlands biome.

By: outdoorsman

Hawks may be found in a wetlands area.

By: Roman Krochuk

Moose often prefer foraging in wetlands for food.