What is the Fossil Record?
The fossil record is the collective accumulation of the remains of organisms that have been preserved, particularly in rock, all over the world, and which are generally at least 10,000 years old. When viewed as a whole, it can provide interesting information about the evolution of life on Earth. Scientists consider the remains they have found to be extremely precious and apply what they learn from them into multiple disciplines. They routinely try to fill in gaps in the record to have a better understanding of the world.
What Scientists Look At
Perhaps most obviously, people look at the fossil record, in whole or in part, to learn about the organisms that have been preserved. They often try to piece together how living things interacted from this basic information. Two related areas that also get attention, however, are the exact placement of the fossils in the Earth and how they were created. These elements provide clues about things such as migration and habitat, date of life and geological and meteorological conditions, structures or events. This type of study, therefore, is important to many different scientific areas.
How Fossils Form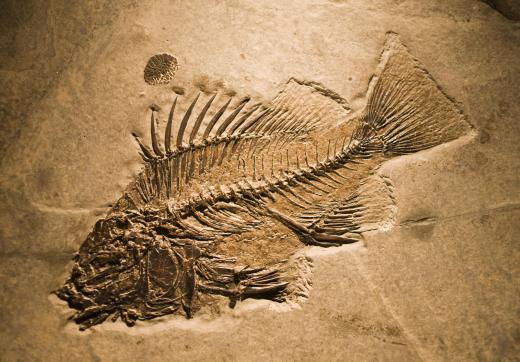 When an organism dies, it typically gets buried. This usually takes time, but it can happen faster in cases where living things fall into pits or similar structures, and as more layers of sediment are added, pressure increases, causing the sediments to compact into rock. As the body decays, minerals seep into the it, filling the spaces where gases or fluids used to be — this is known as permineralization. Alternately, the minerals that are in it chemically break down and are reformed or replaced. Eventually, most or all of what is left is a rock-like copy of the body.
Sometimes, organisms are preserved in substances such as amber, ice or tar, as well. Occasionally, imprints get filled with sediments that harden into rock, creating natural molds or casts. A good example is animal footprints.
Frequency of Fossilization
Nature has evolved a very complex and highly efficient system for recycling materials, so when things die, they generally decay with the assistance of a wide variety of other organisms and the elements. They can only be preserved without artificial help, therefore, when conditions are just right to stop this breakdown process. As a result, this type of preservation is extremely rare, with only a fraction of the billions of organisms that have lived on Earth included in the fossil record, which makes studies of the past extremely challenging.
The rarity of preserved remains makes them extremely valuable from the scientific standpoint. In many cases, scientists have only one fossil as an example of an organism, and they consider these to be the most precious. Museums guard what they do have strictly, often with advanced technology, and normally, they display only a few prized pieces from their collections to illustrate main points in evolutionary history.
Diversity
Despite the fact that a small number of living things are preserved as fossils, the diversity of those creatures is significant, and people recognize that what has been found is only a small percentage of what is available for discovery. Paleontologists and related scientists have located remains ranging from microscopic bacteria to massive mammals, with dinosaurs being perhaps the most well-known. Comparing this evidence to modern-day ecosystems, people know that ancient Earth was not the same as it is today, but the question of why certain life forms became extinct is still one of the mysteries of science.
Collection
Scientists collect fossils in a variety of ways, depending on the type of rock or soil in which they are found. Some excavations require tools such as hammers and chisels, while others use soft brushes and controlled water washes. It is common for those involved to use screens to sift smaller pieces out of the dirt, and sometimes it is necessary to prevent damage or erosion with plaster casts, cloth or tarps and similar methods. Cleaning is usually the last step in the actual collection process, but the work with the record continues, involving dating, preserving and cataloging.
Debate and the Search for New Information
As is often the case with science, the fossil record is not without controversy. Many individuals question certain conclusions that have been reached with it, suggesting that more information is needed. Until accurate dating techniques could be created, for example, some people were under the impression that all of the organisms that were fossilized lived at the same time. It has also been a bone of contention in the debate over evolution and the age of the Earth.
In an effort to resolve points of contention, many scientists travel all over the world every year, conducting research and excavations in the hope that the accumulation and study of more fossils will reveal even more history. The closure of information gaps would be a major breakthrough in science, explaining how earlier life on Earth diverged to create the incredibly diverse range of organisms that can be found today.
AS FEATURED ON:
AS FEATURED ON:







By: markrhiggins

Animals that went extinct before the rise of humans, such as dinosaurs, are known only through the fossil record.

By: markrhiggins

Fossils can reveal how living animal types, such as fish, evolved over time.

By: esebene

Fossilized footprints can reveal information about an extinct animal's behavior.

By: Bastos

Examination of the fossil record led paleontologists and ornithologists to conclude that birds descended from dinosaur lineages.

By: Bastos

Neanderthal remains predate those of modern Homo Sapiens in the European fossil record.

By: Friedberg

The fossil record has been used to determine that marsupial mammals, like koalas, branched off from placental mammals as far back as 125 million years ago.