An atoll is an island that is constructed of coral and encircles a lagoon. Found most often in tropical sections of the Pacific and Indian oceans, atolls are noted for creating an attractive and peaceful setting.
During the middle of the 19th century, Charles Darwin developed was the developer of the more commonly accepted theory of how an atoll is formed. He understood the creation process as having its roots in volcanic activity. The basis for his theory came from personal observations that Darwin made during a six-year voyage around the southern section of the Pacific Ocean.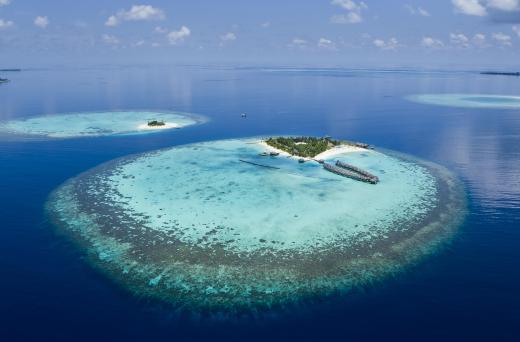 According to Darwin, the atoll was the result of the gradual sinking of a volcanic island that has long since cooled, leaving behind an open crater in the middle section of the island. As the island begins to sink, the surrounding territory of the island falls beneath the surface of the water. At the same time, the coral reef that is found around the fringes of the island remains and gradually is built up through the natural practice of the accumulation of marine organisms that become part of the reef. This creates a barrier reef around the remaining section of the island, forming the perfect conditions for the development of a lagoon. Once the lagoon is formed and is more or less encircled by the barrier reef, an atoll is the final product of this gradual metamorphosis.
Most of the examples of these structures are found in warm waters. The reason for this is that the tropical climate is necessary to help build up the barrier reefs and create the lagoons that connect the islands and the reef formations. When conditions of weather and reef formation are understood to be minimally suitable for the formation of an atoll, they are said to be at the Darwin Point.
Many of the world's most popular atolls are found in the Pacific Ocean, especially around the Caroline and Marshall Islands. The Indian Ocean is also home to many, such as the Atolls of the Maldives. Very few atolls are found in the Atlantic Ocean, although there is a series of eight found just off the eastern coast of Nicaragua.
AS FEATURED ON:
AS FEATURED ON:







By: barefootpilot

An atoll generally circles a lagoon that may have developed due to the sinking of a volcanic island.

By: deepwrecks

An atoll is surrounded by a coral reef.

By: nickolae

Charles Darwin posited an atoll formed by the gradual sinking of a volcanic island that has cooled.

By: Dim154

Atolls are most often found in tropical climates where there are warm waters.