An anaconda is a large, non-poisonous snake. It lives mainly in the South American tropical rain forest known as the Amazon. It lives by rivers and lakes and eats animals surrounding the waters, such as frogs and birds. It will also eat wild pigs, deer and even jungle cats like jaguars. Anacondas are members of the boa constrictor snake family.
Green anacondas are the most common type of anaconda snake. Their scientific name is eunectes murinus. Eunectes is Greek for "good swimmer" and murinus means "a predator of mice" in Latin. It is also known as a water boa.
The scales of this snake are usually greenish-brown with black spots along the back and white spots on the sides. Its nostrils are on top of the front part of its head so it can breathe in the water. An anaconda, however, uses its tongue to smell.
The anaconda is considered the heaviest snake in the world. It can grow to over half a ton (227 kg). The females are often quite larger than the males. The largest anaconda ever recorded was 28-feet (8.53 meters) long and 44-inches (1.12 meters) around. An average one grows to about ten feet (3.05 meters).
The anaconda kills by coiling its body around its prey. It can wait in the water for an unsuspecting animal or drop on it from a tree. The snakes will squeeze tighter every time their victim exhales until it eventually dies. Then the snake will swallow its food whole by unhinging its jaw. Adults have no predators, but baby anacondas are threatened by birds and larger reptiles like crocodiles.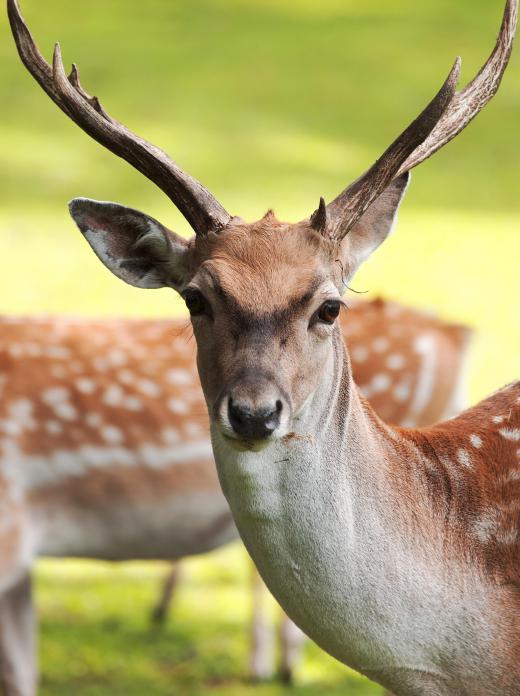 The anaconda's mating season is in April and May. When anacondas mate, several males will form what is known as a breeding ball around one female. They will immobilize the female and compete with each other to breed with her. The mating competition can last several weeks.
An anaconda gives birth to live young. A baby snake will form inside an egg inside its mother, but the egg is retained inside the adult female's body. The young are about 2-feet (0.6 meters) long at birth and are immediately independent. The mother does not stay around to care for her young.
Anacondas can live about 10 years in the wild. Their life span in captivity is considerably longer. Anacondas are not considered an endangered species. They are affected by the gradual loss of rain forest land, which is their habitat.
AS FEATURED ON:
AS FEATURED ON:







By: mtilghma

The anaconda is mostly found in the Amazon rain forest.

By: satori

Deer are one animal consumed by anacondas.

An anaconda may feast upon frogs.