The wild horse is an almost completely extinct species of horse that was once found in Europe, Asia, North America, and North Africa. The scientific name for the wild horse is Equus ferus. A single subspecies of this horse, Przewalski's horse, Equus ferus przewalskii, is the only remaining wild horse species in existence.
Wild horses lived in open plains and in steppe environments as early as the Pleistocene epoch. The North American subspecies of the wild horse became extinct about 10,500 BCE. Asia and African subspecies extinction was more recent, occurring only a few thousand years ago.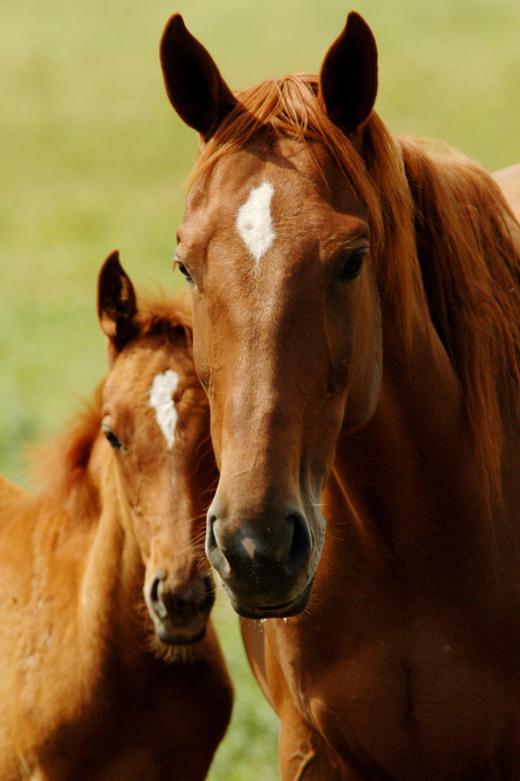 The Tarpan, Equus ferus ferus, was the second to last remaining species in Europe as recently as the late 1800s. Its extinction was due to cross-breeding with domestic species and excessive hunting. Scientists have tried to resurrect the original Tarpan species by selectively breeding Bilgoarj Konik horses. This breed is one of several known descendants of Tarpan-domestic horse hybrids and was chosen for breeding because of its close resemblance to the extinct wild breed.
Breeding with domestic stock led to a decrease in pure wild horse populations for many subspecies. The mustang, often considered a wild horse, is not of the Equus ferus species, however. Instead, they are the descendants of feral domestic horses.
Przewalski's horse still exists in small numbers in Mongolia. Named after the Russian explorer who discovered the species, this horse is stocky, with a short neck and legs and a powerful jaw. They are dun colored or grayish-brown with erect manes, lacking forelocks, made of short black hair. Short, lightly colored hair covers the upper part of their tails and long black hair the lower.
Wild horses live in herds, led by a stallion. Juvenile males often form bachelor groups and eventually attempt to take over groups of females. Przewalski horses breed in May or June, with gestation lasting approximately 11-12 months. Foals can stand just an hour after birth, and mares can mate again after only a week.
The last wild Przewalski horse was recorded in 1968, but in 1977, the horse was rescued from extinction by the Netherlands' Foundation for the Preservation and Protection of the Przewalski Horse (FPPPH). Using the 300 Przewalski horses then in captivity, the FPPPH initiated a breeding program that kept the original lines pure without succumbing to inbreeding. The resulting offspring were released into the wild. In the year 2010, there were only about 170 of these horses living in the wild. The FPPPH's efforts, however, have upgraded this horse's status from "Extinct in the Wild" to "Critically Endangered."
AS FEATURED ON:
AS FEATURED ON:







By: kislovas

The wild horse is a species that's almost entirely extinct.

By: Ekler

Mongolia is home to the Przewalski wild horse.