When a tick becomes engorged with blood, the sack it uses to hold the blood stretches and often takes on a silvery, whitish appearance; in such a case, it may be described as a white tick. It is the engorgement that causes the tick to appear white, which means a white tick isn't really a different kind of tick at all. Usually, the tick's sack is brown or black, but the engorgement of the sack causes the change in color appearance.
When a person sees a white tick, he might assume that he has sighted a different species of tick. This is due to the fact that most people are used to seeing brown or black ticks. A white tick, however, isn't any different from its brown or black counterparts; it is simply so full of blood that its sack has become overly stretched. The overstretching of the sack makes the sack appear white, especially grayish or silvery white, rather than its usual brown or black coloring. Often, this change in appearance occurs with a common tick called a deer tick.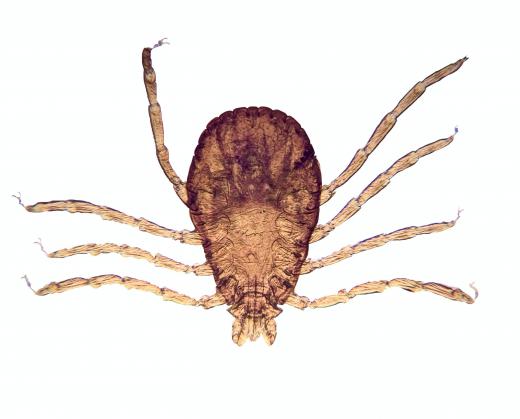 People spending time in forested or grassy areas usually take measures to avoid ticks because they behave like external parasites, feeding off the blood of humans and animals. Usually, a tick attaches itself to a human host without making its presence obvious and then feeds off the host's blood, sometimes for days at a time. If a tick is able to remain undiscovered, he could stay in place and feed off the host for a few days. Eventually, the tick's sack becomes so engorged that a person who sees it might describe it as white. Interestingly, it is usually at this point that the tick releases its grip on its host and stops feeding.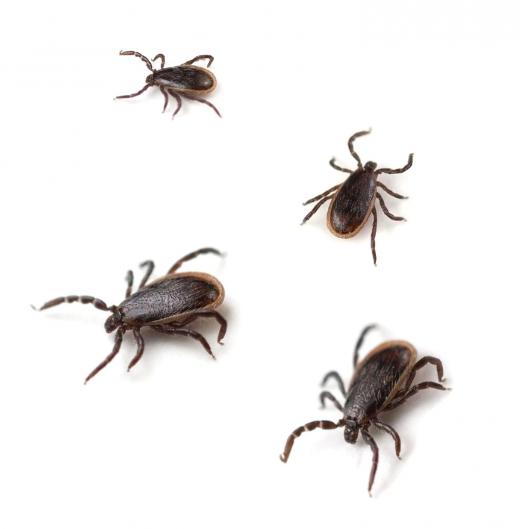 After a tick has become engorged, he usually drops off his host. In some cases, the tick may then go into a hibernation-like state in which it does not feed for an extended period of time. In fact, some ticks can live for months or even years before feeding again.
White ticks, like those that have the normal black or brown appearance, are typically considered pests. This is due, in part, to the fact that they spread disease. For example, the deer tick is well known for spreading a serious infection called Lyme disease. Some ticks can spread more than one type of disease, however.
Can Ticks Be White?
Suppose you have ever heard of ticks referred to as "white ticks" these are not separate from the black or brown ticks. Most ticks are dark and while some may have white spots or patches, they are not white naturally. Instead, ticks begin to turn white as they feed.
Ticks have a sack that fills with blood as they feed. As it stretches, it may turn silvery or white. The ticks most commonly associated with turning a white color are deer ticks. Once a tick turns white, it may be that it has been on its host for several days. Most do not notice ticks until they have been feeding for a short time. Once a tick becomes white and engorged, it is close to falling off.
What Color Are Ticks on Dogs?
Dog owners need to know how to remove ticks from their pets safely. While many know that ticks are dangerous parasites that can carry various diseases, they may not know how to spot them. Ticks come in multiple sizes, dependent on the life stage and when they last fed. A tick may be as tiny as a pinhead and challenging to see or much larger as they begin to feed.
Most ticks have a brown or gray color. Sometimes, the coloring matches the dog's skin and may look like a skin lump. Upon closer inspection, you should see legs. In North America, there are several types of ticks, including:
American Dog Ticks
Lone Star Ticks
Deer Ticks
Brown Dog Ticks
The American dog tick is a brown tick with white spots or streaks. Generally, you will find dog ticks on grassy trails. Once the tick feeds, it becomes gray in appearance and may look like a bean. The major concerns with American dog ticks are their ability to spread Rocky Mountain Spotted Fever and Tularemia.
Lone Star ticks, on the other hand, live in woodland areas along creeks and river bottoms. While their larvae cannot transmit diseases, the adults can transmit Rocky Mountain Spotted Fever, Ehrlichiosis and Stari Borreliosis. To identify a Lone Star tick, look for a brown or tan tick with a white spot in the middle of its back.
The deer tick is also known as the black-legged tick. Its coloring is a deep, dark brown. If the deer tick is in the nymph stage, it may look like a poppy seed against your dog's skin. Deer ticks are most often found in the northeastern U.S. in the fall and winter. The deer tick also spreads severe disease. About 50% of all adult deer ticks have Lyme bacteria. The black-legged tick can spread Lyme disease, Ehrlichiosis and Babesiosis.
The brown dog tick is the most common. It is also called the kennel tick or house tick because it survives indoors. The brown dog tick mainly attaches to dogs and rarely to humans. The tick may look similar to a deer tick, but it is a lighter brown color. Fortunately, the dog tick does not carry any diseases.
To find a tick, keep an eye out for brown or gray lumps on the skin. Ticks do not like areas with a lot of hair. They tend to stay around the ears, on the inner legs or between skin folds.
What Does an Engorged Tick Look Like?
The longer a tick attaches, the more likely it is to cause an infection of the skin. As a tick feeds, it begins to change its appearance because it becomes engorged with blood. If you aren't familiar with ticks, you may be unsure about their appearance. What does an engorged tick look like?
The size of a tick can be an indicator of how engorged it is. As ticks feed, they like to expand to exposed areas of skin to accommodate them. While feeding, the tick begins to balloon. Some ticks can feed for seven days on a single host. An engorged tick may be about one-quarter to two-thirds inches in diameter. A partially engorged tick, on the other hand, may be about one-eighth of an inch.
An unfed tick is dark, generally brown or black. However, as the tick becomes larger, it also begins to look silver, white or green-gray. If you're having trouble identifying a tick, look for the hard plate above their heads. Lone Star ticks and deer ticks have a color and pattern unique to the tick type. If you see a dark spot or patches near the base, you probably have a tick on your hands.
AS FEATURED ON:
AS FEATURED ON:







By: Carolina K Smith MD

A brown dog tick.

By: epantha

Deer ticks are well-known for spreading Lyme disease.

By: Viktor

When a tick's body fills up with blood, it may appear white.

By: rmarinello

Garlic can be used to prevent tick bites.

By: Alexandra

Ticks can spread dangerous diseases and infections to people and animals.