The term "wall aquarium" may refer to two different types of fish tanks. The first type of wall aquarium is simply a narrow aquarium that is mounted on the wall, similar to a large picture frame. This type is much more common and easy to install. The second type of wall aquarium is a full-size aquarium inserted into a cut-out hole in the wall. This aquarium can be viewed from the two opposing sides of the wall, which will typically be two different rooms. Because this type of aquarium requires actual construction and home modification, it is somewhat less common.
There are many benefits to choosing a wall-mounted aquarium for the home or office. It allows the owner to have the enjoyment of watching fish and maintaining a fish tank without having to lose valuable living space with a large tank and stand. A wall aquarium only takes up a few inches of space on the wall, and most are designed to be easy to maintain, giving the user easy access to the tank and its filters right on top of the frame.
Most wall aquariums are between four and six inches (10 and 15 cm) thick. They come in various square and rectangular shapes, with different styles of frames to suit different types of decor. Many come with stainless steel or wood frames, though some come with frames that are interchangeable. Matching crown molding can also frame the fish tank, for a seamless appearance. Different sizes of wall aquariums also hold different amounts of water, which affects the amount of fish that can be placed in the aquarium.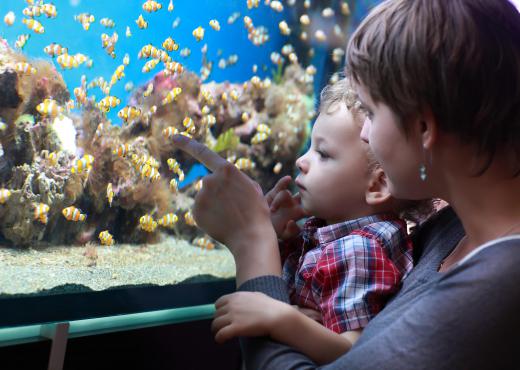 Most wall aquariums can be manufactured to hold between two and 21 gallons (7.6 and 79.4 liters) of water. Keep in mind that a gallon of water weighs approximately 8.3 pounds, so a 21-gallon aquarium will weigh around 175 pounds (79 kg). For this reason, it is extremely important to follow mounting directions. Wall aquariums typically come with special mounting brackets designed to help hold the weight, and they must always be installed into the studs of the wall. An aquarium installed inside the wall does not typically have the same weight restrictions, and can go up to approximately 45 gallons.
Keep in mind that a wall aquarium needs to be mounted on the wall near a power source, because the tank requires electricity for its filter, light, and thermometer, among other needs. Once the aquarium is mounted, it is important to follow directions for setting up the tank and choosing the fish. It is important to clean a wall aquarium regularly as well, just like any other type of fish tank.
AS FEATURED ON:
AS FEATURED ON:







By: Sergii Figurnyi

Small wall aquariums may be mounted on a wall like a large picture frame.

By: Arkady Chubykin

A wall aquarium only takes up a few inches of space on the wall, and most are designed to be easy to maintain.

By: Michal Adamczyk

Aquariums that are too small or crowded can cause stress to the fish they hold.