The viper snake is a common name given to family of snakes that can be found all over the world. A viper snake are poisonous and have the ability to stretch its jaws wider than most types of snake in order to deliver venom effectively. A feature of viper snakes is that they have keeled scales — a type of scale that contains a ridge rather than being smooth. One of the most widely spread examples of a viper snake is the common adder that is found throughout most of Europe. There are only a few places where viper snakes aren't found, namely Antarctica, the Arctic Circle and Australia.
The fangs of all viper snakes are hollow, which allows them to inject the poison into prey during a bite. Both the fangs can rotate so that they are hidden away while not in use. When a viper snake bites, it will bring the fangs down in order to deliver venom. Although vipers don't normally bite humans, it is not unheard of since it is a self-defense mechanism for the snake.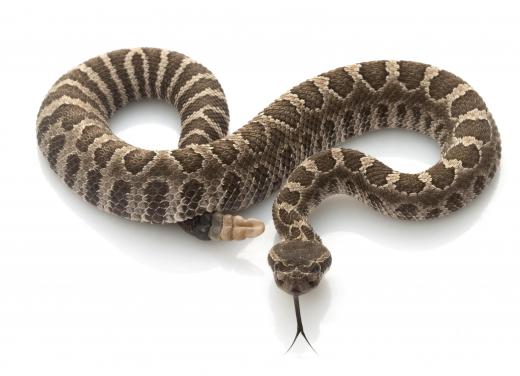 The amount of venom delivered by a particular bite depends on the exact species of snake as well as how large it is. A viper snake may also take into account the size of its prey when delivering a bite as this will affect how much venom is required for a kill. The opposite is true in some cases when the snake is biting defensively — larger assailants will not always receive a larger amount of poison when bitten.
There are four different families of viper snake. The first is that Azemiopinae family and is commonly called Fea's viper. This type of snake is found mainly throughout Asia. There is only one species included in this family. The Causinae is another family, which includes six species and is mainly found in Africa.
A larger family of vipers is the Crotalinae family, which includes more than 150 species. This snake type is found all over the world including South America, Canada and Japan. The family is more commonly known as pit vipers. Pit vipers have the ability to sense prey using heat — the "pit" is the part of the snake's body between the eyes which allows for this. Pitless vipers belong to the Viperinae family and are found commonly throughout Europe and Asia. There are around 66 different species of pitless viper.
AS FEATURED ON:
AS FEATURED ON:







By: fivespots

The Northern Pacific rattlesnake is a species of viper.

By: Remus Moise

A viper snake may take into account the size of its prey when delivering a bite.