What is a Russell's Viper?
A Russell's viper is a venomous Asian snake that goes by many names including the chain viper, Indian Russell's viper, and scissor snake. Along with the Indian cobra, the common krait, and the saw-scaled viper, the Russell's viper is a member of the "big four", which is a group of snakes that cause the most snake bites in South Asia. This snake and its two subspecies are attracted to open areas with plenty of rodents to eat. In turn, rodents are typically abundantly found in places with a dense population of humans, so this viper naturally ends up in close proximity to human settlements. The snake is often described as having slow or sluggish movements unless it feels threatened, then it becomes quick and aggressive.
On average, the Russell's viper is about 4 feet (1.2 m) long, but adults can be anywhere from 3 to 5.5 feet (0.9 to 1.7 m) long. The viper is generally more slender than other vipers, and has a flat, triangular head. It is normally a deep yellow-gold to brown in color with three lines of dark brown spots that run the length of its body. These spots are outlined with a deeper color, which in turn is outlined in white or yellow. Gongylophis conicus is a harmless snake that is commonly confused with the Russell's viper due to its very similar appearances.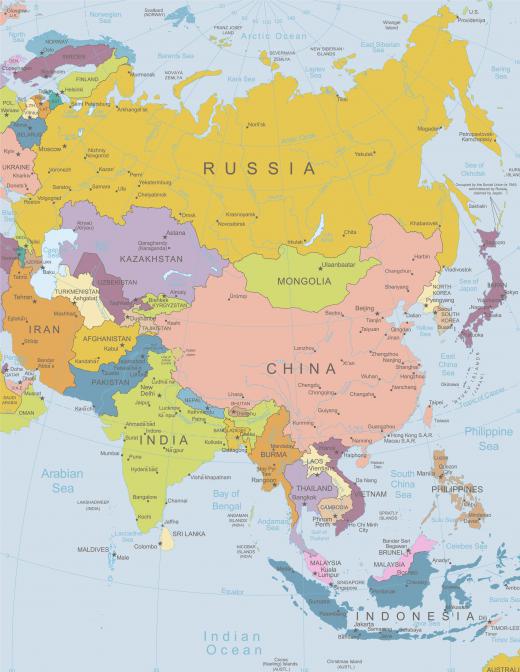 This viper is typically only found in Asia; more specifically, it is located in Taiwan, southern China, and most of southeast Asia. In some countries, it is a rare snake to come across. Other countries must deal with an abundant Russell's viper population. It is rarely found in thick forests, rain forests, or swamps. This viper prefers grasslands, bushy areas, and farmland.
Juvenile Russell's vipers are both more energetic and aggressive than their elder counterparts. Other key behaviors of this species are its distinctively loud hiss when in a threatening posture, and that, when it is biting someone, it may either quickly withdraw or remain in the bite position. In line with their extra aggression, young vipers will sometimes feed on other members of their own species.
The venom of the Russell's viper is dangerous, and people bitten by the snake can die within as little as 24 hours due to kidney, heart, or respiratory failure, as well as sepsis. Some people assert that the Russell's viper is one of the most dangerous snakes in southeast Asia, due to its propensity to bite and toxicity. An antivenin for the poison exists, but bites from the snake remain very dangerous. Typical symptoms of a bite from the Russell's viper include local pain, bleeding, and swelling. Other symptoms include facial swelling, bleeding from the gums, and necrosis.
AS FEATURED ON:
AS FEATURED ON:







By: Ekler

Russell's vipers can be found in Taiwan, southern China, and most of southeast Asia.

By: aceshot

A bite from a Russell's viper may cause facial swelling.

By: Remus Moise

A person bitten by a Russell's viper may die within 24 hours due to sepsis.