The ragdoll cat is a cat breed that is primarily known for its unique markings, good temperament, and an unusual tendency to relax and even go limp when they are picked up. It is believed this odd tendency has been passed down through generations of ragdoll cats from the original cats that were used to establish the breed. The name "ragdoll cat" comes from the fact that holding one of these cats is a bit like holding a rag doll, which is a doll made of cloth that is quite soft and usually limp, not rigid like dolls made of plastic or porcelain. Although not every ragdoll cat goes completely limp when it is picked up, they are usually very good natured and easy to handle, unlike other kinds of cats that can be moody and resist being handled or held.
The coat of a ragdoll cat is usually very soft and silky and is referred to as being semi-longhair. While every ragdoll cat is born white, there are a number of variations that appear in their coloring by the time they reach full maturity. It is usually possible to see the color of a ragdoll kitten when it is two or three months old. Full color, however, is not usually achieved until the ragdoll cat is three or four years old. Although much of the cat's coat may remain white or nearly white, the color comes in on the ears, nose, paws, and tail. In some cases, most of the cat's face will develop color.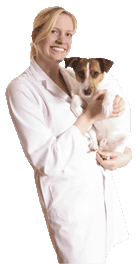 There are six colors that appear in the ragdoll cat breed. The first three are flame, seal, and chocolate. Lighter versions of these colors — lilac, cream, and blue — make up the second three. Tortoiseshell also appears in this color group. Finally, there are three main patterns that appear in the ragdoll cat breed: pointed, mitted, and bicolor.
The original cats used in the development of this breed were probably Persian, Angora, Burmese, Siamese, or Birman cats. This cannot be confirmed because the cat who had the original litter of ragdoll kittens was a non-pedigreed cat and the cats who fathered her litters were unknown. The cats originated in the United States in the 1960s with this one cat, named Josephine, who was owned and bred by a woman named Ann Baker. Instead of working with traditional cat breeding associations, Baker trademarked the breed name "ragdoll" and established the International Ragdoll Cat Association.
AS FEATURED ON:
AS FEATURED ON:







Veterinarian with a puppy