What Is a Pet Grooming Vacuum?
A pet grooming vacuum is actually an attachment accessory for a basic home vacuum. The attachment resembles a brush with long, densely packed bristles. A pet owner brushes his or her pet with the attachment placed on a running vacuum. As pet hair leaves the animal's coat, the attached vacuum sucks and stores the hair and dander. The home will have less pet hair invading fabrics and carpets, resulting in a cleaner household.
Many manufacturers have designed various pet grooming vacuum models. The attachment to the vacuum's hose typically is universal, fitting almost any vacuum brand. Some pet grooming vacuum attachments have retractable bristles, and this retraction motion helps the vacuum draw in more pet hair. Non-retractable models might still have residual pet hair remaining between the bristles, possibly falling to the floor. Some attachments offer a sturdy handle for grooming pets that have thick or dense fur.
Grooming a dog or cat with a vacuum attachment might require some training. Vacuums typically are loud and can frighten pets in the surrounding area. Pet owners will need to slowly introduce the attachment, without the vacuum, to the dog or cat by simply brushing its fur. Eventually, the owner should try turning the vacuum on while brushing the pet.
Pet treats should be offered during the training process. The treats will condition the animal to associate the loud noise with a yummy treat. Practice and patience will eventually soften the pet's frightened feeling around the vacuum.
Alternatively, manufacturers have dealt with this loud noise obstacle by making pet grooming vacuums with long hose extensions. The loud vacuum can remain in an adjacent room while the actual grooming process occurs away from the noise. Skittish pets, such as cats, might have better success with the loud noise being far from the grooming area.
There are different pet grooming vacuum models available. A home that includes an allergy sufferer will benefit from an attachment that has long bristles. The long bristles will capture the pet fur that resides close to the animal's skin. This fur, called the undercoat, can generate a lot of pet hair throughout a home, especially during shedding periods. By contrast, a pet that has a thin fur coat, such as a doberman pinscher, might need only short bristles for a proper brushing.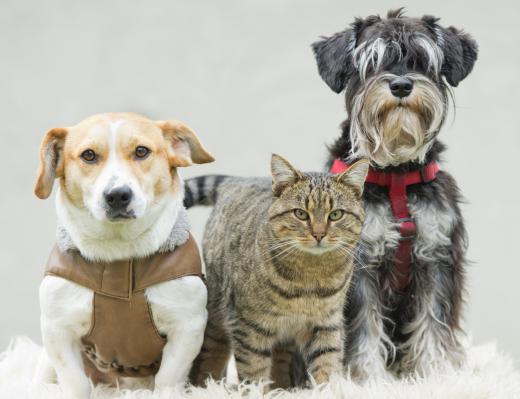 Each pet has a distinctive personality and fur type. A pet owner can experiment with different pet grooming vacuums to find the best fit for his or her pet. Pet owners can even trade the attachments with one another to save money. Dog parks are also a smart way for pet owners to meet each other and compare pet grooming techniques.
AS FEATURED ON:
AS FEATURED ON:







By: fotosmile777

A grooming vacuum is designed to lift shedding pet hair.

By: antonsov85

Pet grooming vacuums are recommended for longer haired pets.

By: Budimir Jevtic

Establish a routine for trimming or removing hair from pets when they are young.

By: jagodka

Grooming vacuums capture pet hair and dander before it can get into carpets and fabrics and cause allergic reactions.