The Lhasa Apso is a toy breed dog that originated in Tibet. This breed of dog was bred to protect the monks from intruders in the Buddhist monasteries. Lhasa Apso means "long haired Tibetan dog."
Lhasa Apsos stand approximately 10.75 inches (27.30 cm) tall at the shoulders. Male Lhasas weigh between 14 to 18 pounds (6 to 8 kg) while females weigh between 12 to 14 pounds (5 to 7 kg). Lhasa Apsos have dense fur that vary in color from white to dark brown, while some have tan and white splotches. Breed standards for Lhasa Apsos require that they have a black nose and dark brown eyes.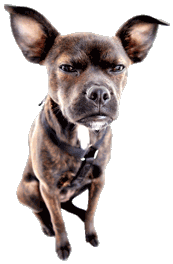 The Lhasa Apso is generally a very healthy dog with very little genetic predisposition to health disorders. Some Lhasas will develop skin disorders, hip dysplasia, kidney and eye problems or bleeding ulcers. If the dog is properly cared for, the chances of developing these disorders are very minimal.
A relatively low energy dog, the Lhasa Apso may have brief periods of high activity, especially in cold weather. Due to their thick coats, Lhasas thrive in cold weather. Lhasas prefer to sit and lounge all day, except for occasional sprints around the yard to check for intruders.
Lhasa Apsos are very loyal to their owners, but wary of strangers. They can be snappy, especially if they deem a visitor untrustworthy. Due to their low tolerance level, they are not recommended for families with small children. With intense effort, it can be managed, but it will involve training the dog and the child. These dogs are stubborn and require diligence when training.
Caring for a Lhasa Apso requires a great deal of grooming. A Lhasa's coat must be combed every day to prevent painful tangles and matting. Mats will pull the Lhasa's hair painfully tight, resulting in the skin tearing. Dry shampoo the Lhasa Apso's hair as necessary. Overwashing can result in this breed of dog developing skin disorders.
The Lhasa Apso must have the hair around her eyes and ears trimmed regularly. Due to the skin around the eyes and ears being so delicate, the weight of the long hair can tear it. You can do this yourself, or take your dog to the groomer. This will also prevent your Lhasa from developing eye and ear infections.
This type of dog requires a daily walk to meet their exercise requirements. Lhasas who are walked regularly are less destructive and cooperative. The Lhasa Apso is a perfect apartment dog due to his small size and low exercise requirements.
AS FEATURED ON:
AS FEATURED ON:







Dog