Guinea fowl are medium sized birds native to Africa in the Numididae family, strongly resembling partridges and existing in both wild and domesticated forms. Like other types of poultry, they are kept both for their eggs and flesh around the world, and live birds are available from poultry supply companies that specialize in exotic and unusual birds. Guinea fowl can also be found in a much less active form at the butcher's, and are available fresh and frozen.
Some people compare guinea fowl to army helmets, and they do have a rather rotund shape, marked at the top of the head with a distinctive crest of feathers, or, in the case of the helmeted guinea fowl, a fleshy comb like in chickens. The birds come in gray, white, and bluish tones, many of which are spangled with spots in contrasting colors. Their heads are usually bald, and the birds are somewhat peculiar looking, as a result.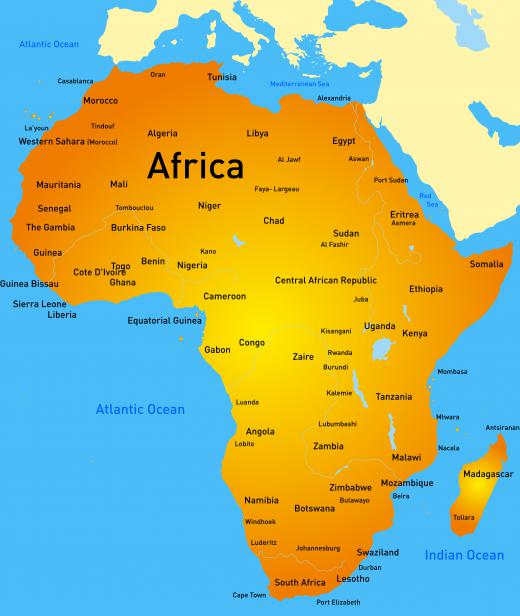 In addition to providing a food source, these birds are also excellent watch birds. They are highly vocal avians, with both male and females frequently calling out through the day. The naturally curious birds will also comment on any visitors, alerting homeowners to potential guests or intruders. Guinea fowl are also voracious insect eaters, and are used on the farm and around the garden for pest control. Unlike some other pheasant-like birds, guinea fowl are not very destructive to gardens, and they can be safely allowed to wander as long as they have plentiful food supplies.
A young guinea fowl is called a keet. Female birds are responsible for raising the keets, although the birds do form monogamous relationships, and the males sometimes assist with caring for the chicks. Males and females are very similar in appearance, although males tend to be slightly larger, with bigger crests and combs. The birds spend most of their lives on the ground, foraging for food and nesting, and they are omnivorous, although they consume a large amount of insects.
As a meat animal, guinea fowl produce primarily dark meat, which can dry out if it is not cooked properly. When cooking the birds, they should be well basted to prevent the meat from drying out, and you may want to consider serving them with a dipping sauce to moisturize the meat. The birds are often served whole, as there is not a substantial amount of meat on the birds after plucking.
AS FEATURED ON:
AS FEATURED ON:







By: Ruslan Olinchuk

Guinea fowl are birds native to Africa.