A fishing cat, or Prionailurus viverrinus, is a small cat native to Southeast Asia. As the name implies, fishing cats fish for their dinners, although they eat other small animals as well. The water-loving cats are considered vulnerable to extinction, since they rely on healthy wetlands for survival. Several zoos around the world maintain breeding colonies of fishing cats, for people who are interested in seeing the distinctive animals in person.
An adult fishing cat is about double the size of an average house cat, with olive gray fur marked with spots and lines and creamy bellies. Along their backs, the spots turn into a dark dorsal stripe, which may be accented with several partial stripes. The animals have bodies which are well adapted to aquatic life, with small ears, stocky legs, and a flattened tail which can apparently be used almost like a rudder. Fishing cats also have slightly flattened faces, which give them rather comical expressions.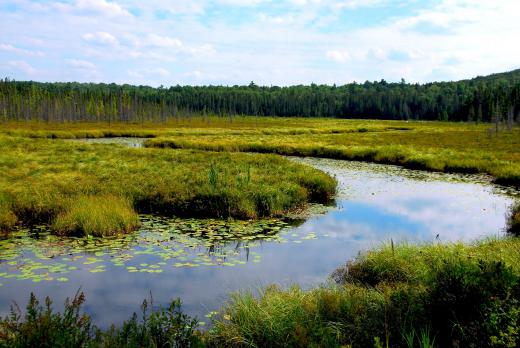 The animals eat birds, small animals, and fish. They prefer slow moving or stagnant water, and can be found in marshes, wetlands, and swamps, as well as near streams and brooks. Fishing cats swim very well, and they also enjoy playing in the water, demonstrating that not all cats dislike time in the water. The animals have also developed a unique trait which helps them to fish; they tap their claws on the surface of the water to mimic the movement of insects, drawing fish up to the surface so that they are easier to catch.
Not much is known about the wild and breeding habits of fishing cats. The gestation period is around two months, and the females typically bear two to three cubs. Many captive colonies live together amicably, sharing play time and resources. Like many species of small cat, fishing cats are sometimes hard to track down in the wild, except with the use of hidden cameras and tracking collars.
Sadly, the fishing cat is under threat from a number of quarters. Many of the wetlands in Southeast Asia are being destroyed to make room for industry, or through climactic changes. Pollution is also a serious issue in Southeast Asia, negatively impacting many plant and animal species, including the fishing cat, through waterways. In addition, the animals are hunted for their beautiful fur in some countries. Zoos with captive breeding programs hope to keep captive stocks strong and diverse, so that the fishing cat will not disappear entirely.
AS FEATURED ON:
AS FEATURED ON:







By: Elenathewise

Fishing cats are often found in wetland areas.

By: Ekler

Fishcats are native to Southeast Asia.