A cloudburst is a sudden rainfall which can be quite unexpected, very abrupt, and rather drenching. In some cloudbursts, up to 5 inches (almost 13 centimeters) of rain can fall in an hour, often in the form of extremely large droplets. Cloudbursts are especially common in the tropics, although they can occur anywhere, and they are often accompanied with thunder. They are also highly unpredictable, by nature, which can be very frustrating for weather agencies.
The term "cloudburst" is the result of the fanciful idea that clouds are filled with water. Historically, some people believed that clouds were essentially like balloons, with solid membranes filled with liquid. In a cloudburst, these balloons would literally burst, pouring torrents of rain out. Although this theory has since been disproved, the term has stuck.
Typically, extremely high clouds are involved in a cloudburst, most classically cumulonimbus clouds. The hard rain characteristic of a cloudburst is caused by a phenomenon known as Langmuir precipitation, in which drops of rain fuse together to create large drops as they fall, falling every more quickly as they grow. Sometimes, the rain in a cloudburst falls so fast and is so large that it is actually a bit painful.
Because of the amount of rain involved, a cloudburst can be quite dangerous, especially if it persists for several hours. Flooding is common with cloudbursts, and in areas with arroyos, washes, and other gullies, these geological features can quickly fill with water, sweeping away any people and animals which might be inside. Flooding can also render streets unusable, and in extreme cases it can shut down an entire city, as people struggle to cope with the influx of water.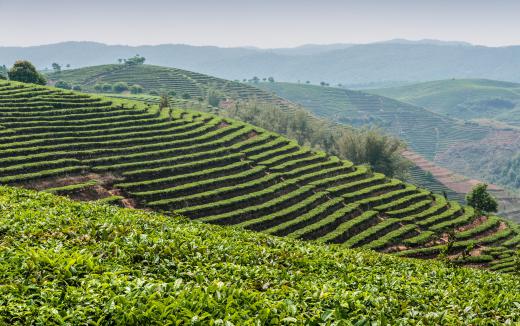 Often, these severe rainstorms appear in the summer, and in farming communities, they are sometimes welcomed, as a cloudburst can irrigate crops very thoroughly. Most people try to avoid being caught out in the weather, however, as they would otherwise be drenched to the skin. Drownings have also been linked with cloudbursts, even without widespread flooding, because people can become disoriented when caught outside in severe weather.
AS FEATURED ON:
AS FEATURED ON:







By: espion

A sudden, drenching rainfall may be referred to as a cloudburst.

By: FedeCandoniPhoto

Cloudbursts may cause flooding.

By: njr_2011

Cloudbursts may be welcomed by farmers because of the thorough irrigation of their crops.

By: Okea

The high clouds involved in a cloudburst cause rain drops to fuse together creating larger rain drops.

By: Innovated Captures

Cloudbursts are hard for even experienced meteorologists to predict.