Chum salmon, of the genus Oncorhynchus, is a silvery blue-green Pacific Ocean fish that acquires purplish-black vertical stripes during its spawning season. A black, horizontal stripe can appear instead if the fish is actively spawning or is a sub-dominant male. The males are also recognized by their extremely large teeth. Their average weight is between 8 and 15 pounds (3.63 and 6.8 kilograms), and they can grow up to 3 feet (0.9 meters) long. They generally have a lifespan of three to six years. Chum salmon have a wider distribution range than any other Pacific salmon type, and are spread throughout the northwestern United States, northern Canada, western Russia, Japan and Korea. They are sometimes referred to as dog or Keta salmon, and are typically sold under the name Silverbrite salmon in stores.
The life cycle of a chum salmon begins in fresh water streams and tributaries, where adult females can lay up to 4,000 eggs in nests called redds. After about four months, the eggs hatch. These young fish are called alevins. At this time, the alevins remain in the redd in order to absorb nutrients from their egg yolk sacs. Their diet also consists of insects and small fish.
After about a month, the salmon emerge from the redd, and are now called fry. The fry do not reside in fresh water for a long period of time after they are hatched, unlike other types of salmon. They make their way quickly to saltwater coastal areas, swimming in schools to avoid predators. When the salmon become adults, their diet normally consists of other fish, jellyfish and squid. After approximately four years of life in the open ocean, the salmon return to the stream where they were hatched, spawn, and die soon afterward.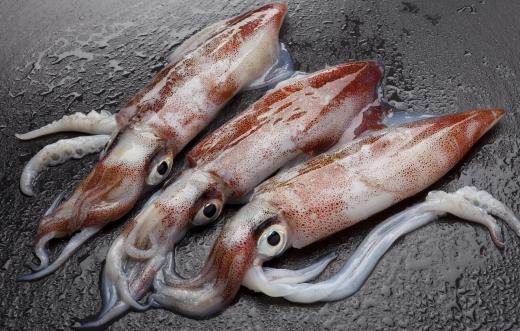 Commercially, chum salmon are usually harvested from fisheries, or are caught by drift gillnets. They are the most harvested fish in parts of Alaska, and there is a growing demand for them in Europe and Japan. Alaskan chum salmon are used extensively in the food service industry.
Nutritionally, chum salmon are naturally high in omega-3 fatty acids, protein, and selenium. They are also low in sodium. They have the lowest oil content of all salmon varieties, making them ideal for people who prefer a lighter-tasting fish. They can be bought fresh from July through October, or purchased frozen. The skin and flesh colors can vary widely, depending on the fish's age and where it was caught. The fish is commonly prepared grilled, smoked, steamed or poached.
AS FEATURED ON:
AS FEATURED ON:







By: Lsantilli

Chum salmon is low in sodium.

By: hiphoto39

A salmon's diet might include small squid.

By: emmi

Chum salmon can be smoked.