A bug zapper is a device that uses light to attract an insect, and then electrocutes the insect, causing death. People often use the bug zapper to cut down on insect populations in their backyards or on their patios. However, some of the main insects that one would want to kill, such as mosquitoes, seem relatively immune to the charms of a buzzing light and will avoid the bug zapper. Other valuable insects, like moths and butterflies, which pose no harm to humans get attracted to the light and suffer untimely and unnecessary deaths.
Advertisements often claim the bug zapper to be a "new" development. However, the bug zapper is actually over 70 years old. William Folmer and Harrison Chapin made the first one in 1934. The bug zapper has undergone some slight modifications over time, but it is essentially still the same machine with the same guiding principals.
The bug zapper somewhat resembles a mesh house. It has a top or roof, which keeps bugs in and protects the next layer which contains a tiny power transformer capable of delivering up to a 2000 volt zap to the wire grids at the bottom. Between the wire grids and the bottom is a light, which can vary in wattage. The light bulb tends to be fluorescent, which unfortunately does not attract mosquitoes.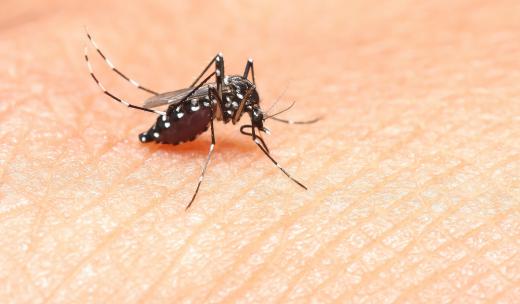 When an unsuspecting insect flies into the light, one hears an electrical zap, similar to a short hum of a bee, thus signifying the insect is now dead. Dead insects accumulate at the bottom of the bug zapper. The bug zapper needs to be emptied frequently since it can easily fill up overnight.
One concern with the bug zapper is that it may actually attract more insects to one's yard, rather than repelling them. Also since it primarily zaps harmless insects, it may do more harm than good to the environment. Researchers have recently developed a type of bug zapper that emits a non-toxic chemical called Octenol as well as carbon dioxide. These two chemicals attract mosquitoes and may ultimately prove more effective in eliminating them.
For extra protection, however, one should not rely on the bug zapper alone. Citronella candles have a mosquito repellent factor, and as well, especially with the dangers of West Nile Virus contracted from mosquitoes, the best prevention may be the use of skin insect repellants that contain DEET. Insect repellants do need to be used with care, but they are effective in preventing bites. Avoiding going outside during the hours just before sunrise and after sunset, when mosquitoes are most prevalent, may also eliminate your risk of being bitten.
AS FEATURED ON:
AS FEATURED ON:







By: Bert Folsom

Citronella candles can help deter mosquitos.

By: saidin jusoh

Mosquitoes might be a target of a bug zapper, but they usually avoid it.

By: alexandro900

Mosquitos are most prevalent after sunset.