A beefalo is an animal born as a result of cross-breeding between an American bison and a domestic cow. Various cattle breeds can successfully produce this kind of fertile hybrid. Although random beefalo births date back to the 1700s, these animals were first intentionally cross-bred during the 19th century when ranchers discovered the potential market for beefalo meat. Although buffalo and cattle belong to both a separate genus and a separate species, they still have enough compatible genes to be able to produce viable offspring. The red meat from one of these hybrids is noted for its lower amounts of fat and cholesterol; it also contains fewer calories while still retaining a rich beef flavor.
Several characteristics give the average bovid hybrid advantages over nonhybrid cattle or buffalo. These animals are generally heartier and able to thrive on a wider variety of grasses, including drier roughage during droughts. Unlike other cross-bred animals such as mules, beefalo are able to produce offspring. They are also better adapted to extreme temperatures; thicker woolly hair keeps them warmer in cold weather and a better ability to sweat cools them off in hot weather.
The advantageous traits of a beefalo make it an example of a hybrid vigor, which is an offspring that has a degree of superiority over either of its parents. The fact that these animals are able to reproduce also makes them exceptions to the scientific principle of Haldane's Rule. This rule of biology attempts to provide a systematic explanation for the occurrence of sterility among other types of hybrid animals.
American bison are not the only breeds used for this kind of cross-breeding. A zubron is a type of bovid hybrid that is born from the mating of a domestic cow with a wisent, which is a species of European buffalo with a few different characteristics. These animals typically have longer tails, somewhat larger horns, and shorter coats surrounding their heads. Wisents also differ in grazing and breeding behavior; instances of them mating with cattle are less common, making their zubron offspring somewhat rarer.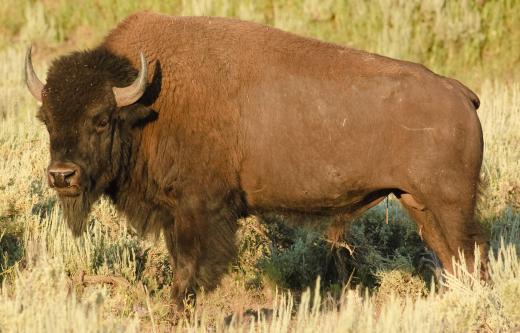 Although they are not classified as beefalo, many American bison are found to contain small amounts of genetic material from cattle. One exception is the Wind Cave Bison Herd, a group of genetically pure buffalo that has been purposefully bred as a preservation effort. The herd is one of the few remaining ones that roam free in North America after the buffalo nearly became extinct during the 19th century.
AS FEATURED ON:
AS FEATURED ON:







By: Giovanni Burlini

Beefalo meat.

By: marco iacobucci

One parent of a beefalo must be a domestic cow.

By: Jeffrey Banke

Beefalo is the result of cross breeding an American bison with a domestic cow.

By: Syda Productions

Beefalo may be used as a substitute for traditional red meat dishes.