What Foods are Bad for Pets?
There are plenty of foods that are bad for pets, though certain foods may be bad for dogs and not for cats or vice versa. Some foods that are bad for both animals. It's important for pet owners to take note of these because they are often common foods in many homes.
Foods that cats and dogs should not eat includes any types of raisins or grapes, which may cause kidney damage. Tomatoes may also be problematic, creating violent illness in both animals. Onions and garlic are also bad and may result in anemia if consumed regularly. This risk is higher for cats, but it still can occur in dogs.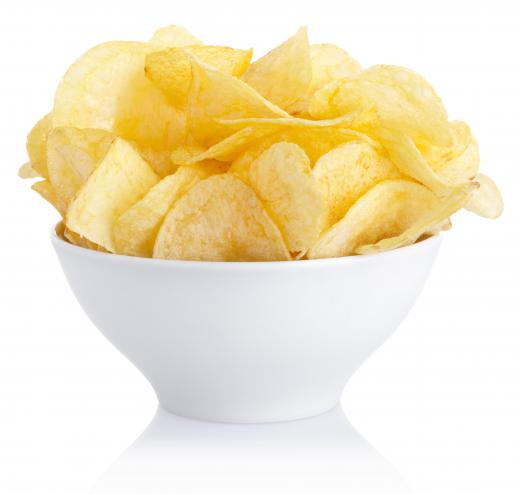 Chocolate is equally a problem, and so are foods and drinks with alcohol. Neither dogs nor cats should eat uncooked yeast dough because it can expand in their stomachs. Another food that both cats and dogs can't digest and may have problems with is raw potatoes of any kind.
For dogs, foods that should be avoided also include raw eggs, most nuts, large amounts of liver, cut fats off of meats, pits from fruit, persimmons, and — surprisingly — cat food. Cat food can create problems for dogs because it is high in fat and does not have the right nutritional balance for dogs. People who own dogs should feed them dog food, although if a dog ate cat food once in awhile, it would be unlikely to harm the animal.
Another food that may be bad for pets is milk. Some dogs and cats appear to digest milk fine, but others have significant intestinal upset from it. Most dairy products may bother the stomachs of pets, though they occasionally enjoy cheese and digest it well. Pet owners should choose lower fat cheeses for them, since this should be a treat instead of an every day type of food.
Sometimes, the food itself isn't bad, but the way the owner prepares it can be. If dogs or cats are given meat or fish, it should be free of small bones that can block the digestive system or cause cuts in the intestines.
People who have other types of pets should also be careful about what they feed them:
Most rats and mice — avoid blue cheese, raw potatoes, raw carrots and carbonated drinks.
Hamsters — avoid garlic, onions, frozen foods, chocolate, and citrus fruits.
When in doubt, a pet owner should check with a veterinarian about the best diet for his or her pet. People should remember that just about anything humans consider junk food is also bad for pets. When a person wants to give snacks to a pet, he or she should be sure that such treats that will not harm the animal.
AS FEATURED ON:
AS FEATURED ON:







By: andersphoto

Junk foods, like potato chips, should not be given to pets.

Blue cheese is not good for rats and mice.

By: karandaev

Milk can cause stomach upset in some pets.

By: Dusan Kostic

Tomatoes and tomato plant greens can be harmful to pets.

By: andrewsproule

Dogs should not be given raw eggs to eat.

By: Subbotina Anna

Hamsters should not be fed garlic, onions, chocolate, or citrus fruits.

By: Dionisvera

Cats and dogs should not be given raisins.

By: hui_u

Pet rabbits should not be fed lettuce, potato tops or parsnips.

By: Schlierner

Hamsters should not be fed garlic.

By: Bartlomiej Nowak

Cats should not be given grapes to eat.

By: Gelpi

Dogs should not be fed most nuts or cat food.

By: mariesacha

Most pet rats shouldn't eat raw potatoes or carrots, or blue cheese.

By: UJac

Commercially processed dog food may be harmful to your pet.