What's a Baby Zebra Called?
A baby zebra is called a foal, though some individuals may refer to young zebras as cubs. Like horses, a baby zebra is called a filly if it is female and a colt if it is male. Adult females are mares and male zebras are called stallions.
Depending upon the species, zebras mate year round. The gestation period is generally between 12 and 13 months. Zebras typically only have one baby zebra a year, though twins are occasionally born.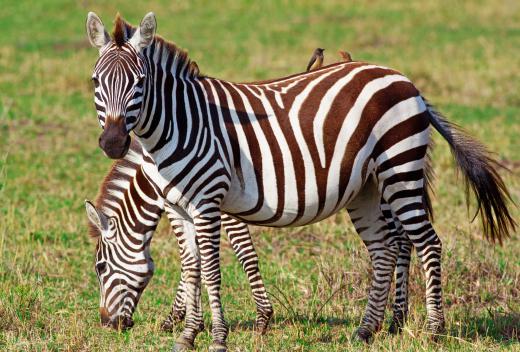 Adult zebras are characterized by their black and white striped pattern. This pattern varies with each zebra, and no two patterns are exactly alike. In contrast, a baby zebra is marked with brown and white stripes instead of black and white. The zebra's unique striped pattern is thought to serve as a camouflage, making it easier to blend in with the tall grasses of its natural habitat.
Zebras live in groups referred to as harems, though the three species of zebras differ somewhat in the forming of these groups. The Grevy's zebras only form temporary groups, dispersing after a few months. In contrast, the plains and mountains species form harems that are generally made up of one stallion and approximately six mares and their young zebras.
Within the harems, baby zebras are protected by all of the zebras within the group. The young zebras of the Grevy's species, however, are often only protected by their mothers due to the temporary nature of this species' herding practices. Mountains and plains species communicate via a high pitched whinny, while Grevy's zebras have a loud braying sound.
A baby zebra learns to recognize its mother by sight, smell, and sound. It generally takes two to three days before a baby zebra is able to distinguish its mother from the other mares. During this process, the mare will generally stray away from the harem with her baby zebra and keep the other zebras away until she is sure her foal can recognize her.
Zebras have an amazing sense of smell, keen eyesight, and extremely powerful hind legs. When attacked or pursued by predators, zebras will kick their back legs while fleeing in an effort to ward off danger. In harems, the stallion will remain at the back of the herd to fight off pursuing predators. Harems will flee in herds, remaining close together to confuse predators with their striped patterns. Natural predators include spotted hyenas, lions, cheetahs, and leopards.
What Is a Zebra Gestation Period?
The term "gestation period" refers to the typical length of time a particular animal species' pregnancy lasts. Unlike horses, who are usually pregnant for an average of 11 months, a zebra's gestation period is 12 to 13 months. While it is possible for a zebra to have twins, it is more usual for a zebra to have only one foal at a time.
What Does a Baby Zebra Sound Like?
Baby zebras make most of the same sounds as adults, although their barks are often higher-pitched. Adult zebras (especially plains and Grevy's zebras) vocalize a lot. They nicker to express affection to other herd members, while the bark is a more general greeting. While they also use whinnies and brays to communicate danger, these sounds are difficult to describe and distinct from those made by horses and donkeys. Zebras also snort loudly to express alarm and squeal when in pain. The three zebra species have somewhat different vocalizations; for example, mountain and plains zebras are higher-pitched than Grevy's.
Are Zebras Born With Stripes?
Zebras are born with white stripes on a brown background. The brown darkens to black as the foal grows. In 2019, a wildlife photographer in Kenya spotted a zebra foal with white polka dots instead of stripes on his upper body and head! (The foal still had some stripes on his legs.) This is not the first polka-dotted zebra ever photographed, but they are extremely rare, as are "blonde" zebras who have a greyish-tan background for their white stripes. These unusual color patterns are caused by genetic mutations.
Are Zebras Black With White Stripes or White With Black Stripes?
It might seem like a silly question without a real answer, but zebras are black with white stripes. What does that actually mean? Underneath their striped fur, zebras have black skin. A pigment called melanin is what makes both their skin and some of their hair black. The white stripes are white because the hairs they are made up of do not have any pigment. (In scientific terms, white is not a color; it is the absence of any color.)
Why Do Zebras Have Stripes?
There are several hypotheses about how the striped pattern evolved. Camouflage might seem like the most obvious explanation, but zebras do not blend in with the environment well, unlike many other animals whose color patterns are more subtle. Other ideas that mostly do not seem to be supported by research include that the stripes might confuse predators or serve as a way for zebras to recognize each other. (It is true that a baby zebra imprints on its mother's stripe pattern soon after birth, but stripes do not seem to matter in other interactions, and horses recognize each other despite having solid-colored coats or patterns that are much less complex than zebra stripes).
The idea with the best evidence comes from experiments showing that many species of flies tend to avoid landing on striped surfaces. Scientists have not figured out yet why flies apparently do not like stripes, but when they dressed horses in zebra coats (yes, really) and put them in the same area as real zebras and other horses without zebra coats, the "naked" horses got bitten by flies a lot more than either the real or the fake zebras did.
That experiment and other research support the idea that the first zebras to be born with some type of stripes were less likely to be bitten by disease-carrying flies and therefore more likely than other zebras to stay healthy and live long enough to have multiple foals who inherited the stripes. Over hundreds of thousands of generations, mutations that resulted in some zebras having clearer and more highly contrasting stripes meant that they were even less attractive to flies. Those zebras were even more likely to live long enough to have lots of foals, some of which would have descendants with even clearer and more highly contrasting stripes that were even less attractive to flies, and so on.
Not all scientists who study zebras agree that the evidence is strong enough to support the anti-fly hypothesis. Some argue that the stripes help to keep the zebra's body temperature well-regulated and that temperature regulation is more likely than fly-repellent to increase the odds of a zebra staying alive and healthy long enough to have lots of foals. Other scientists say there is not enough evidence to conclude that stripes help regulate temperature, and more research is needed.
AS FEATURED ON:
AS FEATURED ON:







By: Palenque

Zebras.

By: Michael Ireland

Lions are a natural predator of the zebra.

By: Frank Becker

Cheetahs are potential predators for baby zebras.