What are the Salt Range Mountains?
The Salt Range Mountains run between India and Pakistan, in a district of Pakistan known as the Punjab. These mountains are named for their large natural deposits of rock salt; in addition to being important commercially, they are also interesting archaeologically, as they contain a number of sites which are worthy of study. Visitors to the Punjab can usually arrange trips into the Salt Range Mountains, if they are interested in exploring this area and learning more about it.
These mountains stretch from the Indus River to the Jhelum River, making a clear natural boundary between Northern India and Southern Pakistan. The highest peaks of the Salt Range are Tilla Jogian and Sakaser. The average height of mountains in the Salt Range is around 2,200 feet (671 meters); in some areas, the Salt Range Mountains become more hilly than mountainous.
The salt in the Salt Range Mountains has been mined for centuries. Several major mines in this mountain range continue to produce salt; though the supply is not exactly inexhaustible, it will probably endure for an extended period of time. The climate in the Salt Range Mountains is rather arid, making it a hostile place to live; most people who live around the Salt Range live in valleys close to the mountains which allow them to farm and pasture livestock.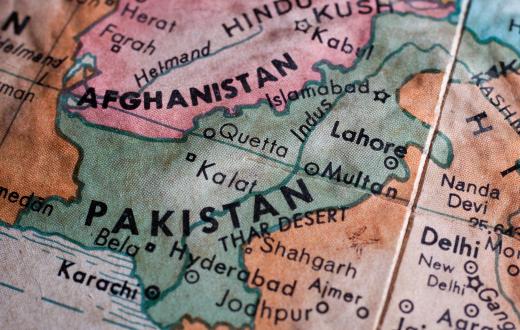 One interesting feature of the Salt Range Mountains is the numerous temples. Many of these temples are abandoned, but they provide interesting glimpses into the religious practices and daily lives of people who once lived in the area. Archaeologists periodically mount expeditions into the Salt Range to explore and catalog these temples, which are in varying states of ruin. There are also numerous pieces of sculpture and works of art preserved in the Salt Range Mountains.
These mountains also provide interesting evidence of fossilized animals. Salt is an excellent preservative, and some intriguing finds have been made in and around the salt mines. Archaeologists working at numerous dig sites have uncovered pieces of ancient civilizations like flint axes along with the fossilized remains of various prehistoric animals. These finds may help to map the course of evolution and geological history in the region.
AS FEATURED ON:
AS FEATURED ON:







By: dja65

Rock salt from the salt range mountains.

By: doglikehorse

The Salt Range Mountains run between Pakistan and neighboring India.

By: AP

Archaeologists have uncovered well-preserved artifacts in the Salt Range mountains.