Do Sloths Make Good Pets?
Exotic pet enthusiasts frequently turn to a pet sloth for a family-friendly, cuddly pet. They have easy-going temperaments and can be affectionate and even playful; they are long-lived, often surviving for 30 years or more in captivity; and they are unlikely to run away. While sloths can make good pets for some people, there are a number of drawbacks to keeping one. As with other exotic pets, they are expensive to obtain, may be illegal in some places and may require special licenses and permits. Depending on the species, they may have special dietary requirements and specialist veterinary care is likely to be very expensive, making costly exotic pet insurance advisable.
Pros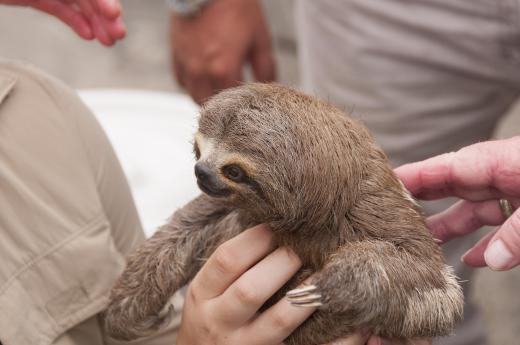 To many families and individuals, owning a pet sloth seems appealing, as they are "cute" animals that are usually good with small children. Since they are also typically slow moving, they are fairly easy to keep track of and do not tend to try to escape or run away. Although they can make sounds, they are not generally noisy and are very unlikely to engage in destructive behavior, such as scratching furniture or chewing up clothes or cushions. The fact that they are generally very clean animals that are comfortable living in the house once they have gotten used to it also makes sloths attractive as pets.
Cons
The disadvantages of owning a pet sloth, however, are often substantial enough to discourage most people from purchasing one. They are exotic animals that are often difficult to buy legally, so the purchase price is likely to be very high. There is the possibility that the pet may become ill and require highly specialized veterinary care, which could be extremely costly. This makes exotic pet insurance very advisable; it may, in fact, be a legal requirement in some places. Even if a sloth can be purchased and kept legally, many establishments, such as hotels, pet boarding facilities and apartments, will not allow them because they are considered exotic pets.
Types of Sloth
There are two main types of sloth — two-toed and three-toed — which belong to different families. Within these categories, there are four species of three-toed sloths and two species of the two-toed variety, giving six in total. The names refer to the number of toes on the forelimbs; all species have three toes on their hind legs. The three-toed forms have more specialized diets, involving particular species of plants, supplemented by bugs. For this reason, the two-toed types are more commonly kept as pets.
Behavior
In the wild, these animals spend almost all of their time high in trees, suspended from branches. As pets, they will behave similarly and will enjoy climbing and hanging from anything suitable. In their natural environment, sloths descend from their trees only to defecate, which they do infrequently, typically about once a week. They do, however, produce a large volume of feces.
The sloth's thick fur harbors many parasites, such as mites and ticks. Because of this, they tend to scratch a lot. Their parasites are not thought to pose a threat to humans, however.
Baby sloths cling to their mothers until they are old enough to fend for themselves. A pet sloth will usually demonstrate similar behavior and will happily embrace its owner, which greatly adds to their appeal. If properly looked after, they are affectionate and, despite their slow movements, surprisingly playful. Many owners have reported that their pets enjoy playing "peek-a-boo" using an old blanket.
General Care
A pet sloth needs to be provided with something to climb on that is strong enough to take its weight. It will enjoy climbing and hanging from real or fake trees inside the home. If this is not possible, it may be happy climbing other structures, such as wooden or metal frames, that have been constructed for this purpose. Ideally, it should have a large living space in which it is allowed to roam and play. At the very least, a tall, roomy cage should be provided to give the animal plenty of room to climb around.
Sloths live in areas with continually high temperatures and are not well adapted to life in temperate regions. They have a very slow metabolic rate and are unable to warm themselves in cold conditions by shivering. For this reason, it is essential to provide a constantly warm environment to ensure that the animals remain comfortable and healthy.
Properly caring for a sloth also requires obtaining special food that can be expensive and difficult to find. Suitable food can sometimes be purchased from zoos or zookeeping resources, but this is not always the case. Additionally, some people may be too squeamish to feed the pet its proper diet, which may include insects. Two-toed sloths appear to be less specialized in their diet and will eat a variety of vegetable matter, but it is important for owners to ensure that they receive enough of all the trace nutrients they require. Anyone considering keeping a sloth as a pet should seek expert advice applicable to the particular species.
Legal Issues
Sloths are generally considered to be "exotic" pets and this means that potential owners may have to meet certain conditions and obtain special licenses or permits. Before considering keeping this animal as a pet, it is essential to check out any legal requirements. These vary from country to country and, in the US, from state to state. In some countries and some states, it may simply be illegal. Keeping a sloth under these circumstances could result in a large fine or even imprisonment, as well as confiscation of the animal.
Are Sloths Dangerous?
Sloths aren't considered a dangerous animal the way bears, tigers, and hippos are, but interacting with a sloth can still pose risks. Sloths are extremely unlikely to attack a human unless they are frightened or provoked, but they have sharp teeth and long claws that can cause serious injury (and which could potentially carry pathogens that result in the injury getting infected). Also, sloths can carry certain types of viruses that can also infect people, and like any animal, they can be a host for many types of insects and parasites that could pose health risks for humans.
Are Sloths Friendly?
While sloths are famous for being easy-going, they are not social animals. In the wild, they live alone and try not to draw attention from other animals in order to avoid predators. Since they are solitary, most sloths don't expect to be touched and can find even gentle petting quite threatening. A baby sloth being hand-raised by humans might appear to enjoy the attention, but in most cases that won't last into adulthood. While some sloths who are kept as pets or who live in wildlife rehabilitation centers do enjoy some human interaction (on their own terms), it's definitely not guaranteed that every sloth will.
How Much Does a Sloth Cost?
In many countries and some US states, it's illegal to own a pet sloth, which means the price of one in those areas will be whatever the black market charges (and usually pretty high). If you buy a sloth through the legal market, the price will likely be at least several thousand dollars. Sloths also require specialized food and veterinary care that is more expensive than what you'd usually need for a dog or cat.
What Do Sloths Eat?
In the wild, two-toed sloths eat everything from leaves to fruit to insects to lizards and other small animals; they sometimes even eat carrion. Three-toed sloths eat mostly leaves (and can be picky about which types).
Where Do Sloths Live?
Sloths are native to Central and South America. They live in tropical rainforests, though some species live at slightly higher elevations than others. Sloths spend almost all of their time in the treetops, usually hanging upside down; under normal circumstances, they come down about once a week to defecate. Sloths are so well adapted to their environment than on Barro Island (which is off the coast of Panama), scientists estimate that if you added up the mass of all the mammals that live in the treetops, sloths would account for about 70%.
Don't Sloths Have Algae in Their Fur?
Sloth fur does indeed host algae, which in wet conditions can make the sloth look a bit green, but there's a lot more going on than that. Sloth fur is often considered to have its own ecosystem. In addition to algae, it's home to a variety of mites, ticks, lice, even beetles and moths. Sloth fur is unusual in another way as well. Because sloths spend so much time hanging upside down, their fur grows in the opposite direction than it does on most mammals.
Are Sloths Really That Slow?
Sloths are the slowest mammal on Earth! They even blink more slowly than do other animals, and they spend up to 90% of their time not moving. Although they are faster in trees than they are on the ground, a typical sloth still only moves about 40 yards over an entire day. (In contrast, spider monkeys, which also spend most of their time in the treetops, often move thousands or even hundreds of thousands of yards in a single day.) Sloths are so still because their metabolisms move at a much slower pace than those of other mammals; they can't digest their food quickly enough to have enough energy to support more and faster movement.
How Many Babies Does a Sloth Have?
Sloths have only one baby at a time. A sloth's gestation period (length of pregnancy) is six months for three-toed sloths and a full year for two-toed sloths. It's possible for a sloth to have one baby every year, but this doesn't always happen because sloths are so solitary and slow-moving that males and females sometimes go more than a year without encountering each other at all. A baby sloth is ready to leave its mother once it's about five months old. Scientists aren't actually certain how long sloths typically live in the wild. In captivity, some two-toed sloths have lived for more than 30 years.
AS FEATURED ON:
AS FEATURED ON:







By: wildnerdpix

Highly specialized health care can be an expensive part of sloth ownership. Some areas require exotic pet insurance coverage for pet sloths.

By: Wrangler

Special licenses or permits may be required to own a sloth.

By: hotshotsworldwide

Sloths can be family-friendly pets that live close to 30 years, but the wild animals can be expensive and require special permits or licensing in some areas.

By: Julija Sapic

Cons of keeping a pet sloth may include scratches.