What are the Different Types of Pet Transport?
Traveling with pets often requires various types of carriers. Pet travel crates are made for large dogs, while pet totes and bags are suitable for cats and small breeds of dogs. Pet transport for birds, including large parrots, may require portable cages with a perch attached to the cage bars. These also may be collapsible for compact storage.
Pet carriers generally must comply with travel regulations, particularly with airline travel. Shipping pets on an airliner will require pet transport that is secure and well ventilated. A dog or cat carrier for airline travel may be a small carry-on tote that fits under the seat, or a cargo-style crate or carrier that is typically checked in with the luggage. These are made to be very well ventilated and designed for comfort.
Another type of pet carrier made specifically for dogs is one that converts from a car seat to a transport design. These may include removable fleece linings that are be machine washable. Typically constructed of nylon with mesh ventilation panels, it may be secured with a zippered enclosure. This type of pet transport is intended for car travel.
Some pet transport carriers are made with caster wheels. These are generally lightweight and made of heavy reinforced nylon. Some of these carriers also feature a telescopic handle and shoulder strap.
A different type of portable transport for pets is one that resembles a ladies' tote or over-sized handbag. These may be made of canvas, leather, or vinyl, with ventilated mesh panels. This type of carrier is intended for transporting very small pets, such as kittens, puppies, and certain toy breeds of dogs.
Those who prefer to carry their small pet dog or puppy close to them, may opt for something known as a sling pet carrier. One end of the sling drapes over the owner's shoulder, as the dog is positioned in a pouch that rests beneath the owner's waist. These are typically made of a polyester and cotton blend material. Some are also reversible.
Another pet carrier designed for both cats and dogs is called a kennel carrier. These come in various sizes to accommodate small, medium, and large pets. These are especially well-suited for airline travel. These carriers generally have small storage compartments and doors for easy accessibility. Typically constructed of durable plastic with ventilation slots, the doors have metal grates for extra ventilation.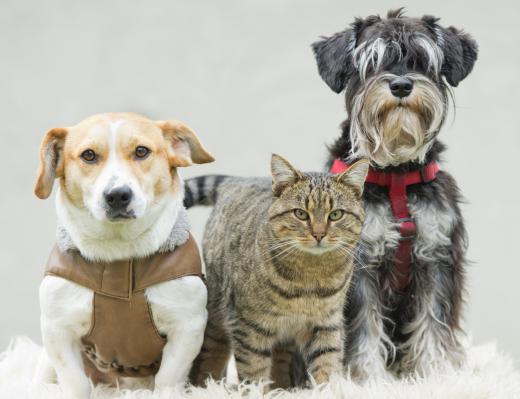 Some bird carriers made for pet transport are constructed of nylon or canvas, with mesh ventilation windows. These generally protect a bird from exposure to the sun and wind. The entry to the carrier opens and closes with a zipper. The owner may use an optional shoulder strap for transport.
Other pet transport devices for small animals are made of plastic. These often have a carrying handle. Designed for transporting small pets such as hamsters, guinea pigs, and rodents, these are generally very lightweight and compact.
Reptiles such as snakes and lizards can be transported in plastic terrariums. These typically have feeder-access windows. Intended for amphibians as well, these are also suitable for frogs and toads.
AS FEATURED ON:
AS FEATURED ON:







By: Sergey Lavrentev

A pet carrier.

By: Oksana Kuzmina

Kittens might be transported in a portable container that resembles an over-sized handbag.

By: Glenda Powers

Birds might require portable cages for transport.

By: Budimir Jevtic

When traveling, never let your pets sit in a parked car on a hot day.