What Are the Different Types of Endangered Parrots?
There are about 330 different types of parrots in the world, and of those, approximately 95 are on the endangered parrots list, although exact statistics vary from country to country. Some, like several different types of macaws, are critically endangered, meaning that they are on the verge of becoming extinct. Others, such as the Cuban Parrot, are not yet endangered, but if their numbers continue to dwindle, they will become so quickly.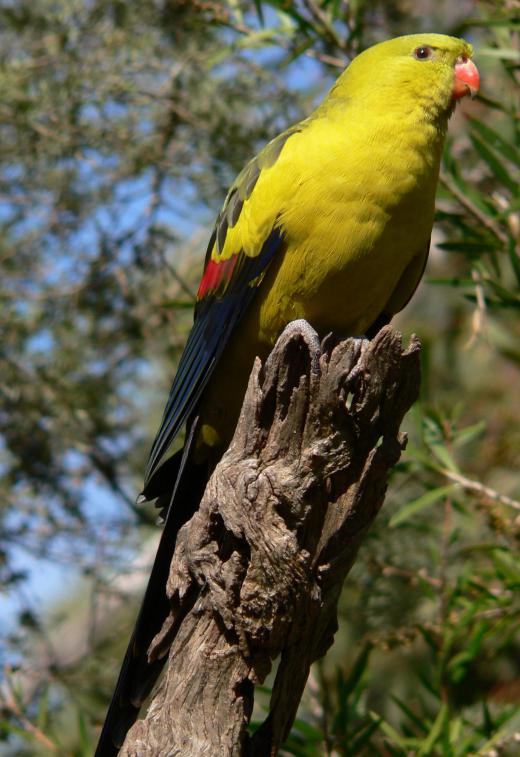 There are numerous causes behind the growing trend of endangered parrots, including poaching, loss of land, and sickness. Poaching is one of the top concerns, because although many countries have outlawed importing parrots captured in the wild, poachers still continue to remove the birds from their natural habitat and sell them illegally. Loss of land is another major concern, as cutting down rainforests and jungles or building cities that encroach on parrots territory is causing the birds to lose their homes.
Several different types of macaws — including the Blue-throated, the Glaucous, and the Lear's Macaw — are critically endangered parrots and on the verge of extinction in the wild. Some bird experts suspect that the Glaucous may already be extinct. Other macaws are on threatened or endangered, but not yet critically so. The brightly colored macaws are among the most commonly poached birds, which accounts for their dwindling numbers. They are also the largest parrots and suffer the most from decreasing habitat space.
The African Gray is also one of the most endangered parrots, although their numbers haven't reached critical levels yet. Along with the macaw, the African Gray is one of the most popular parrot pets. Their popularity stems from the fact that they are one of the smartest parrots and the best mimickers of human speech. Some African Grays have been known to learn over 900 words, as well as voice prompts on when to appropriately use those words.
Other types of endangered parrots include several types of rare parakeets, the Philippines Cockatoo, and numerous types of South American parrots. It is difficult to determine the true number of endangered parrots because resources do not permit tracking every single bird. Some species on the endangered list may already be gone, while others may be increasing their numbers due to conservation efforts.
Those who want to purchase a pet parrot should go through reputable breeders and buy a bird that was born in captivity. Wild-caught parrots rarely become the affectionate pets that people often hope for when they buy a parrot. Purchasing a wild-caught parrot is not just illegal in many countries; it also encourages further poaching, which puts a large strain on the parrot's population in the wild.


By: Digitalpress

Of the 330 types of parrots, about 95 of them are considered endangered species.

By: susan flashman

Poaching is a major threat to many types of parrots.