What are Some Recyclable Items?
It is not as difficult to "go green" as you might think. The first step really is developing awareness and asking the question, "Which items can I recycle?" You may be surprised at the answer.
Most people know that common recyclable items include glass, plastic, aluminum, paper, and cardboard. Some localities provide recycling pick-up, where you simply put your designated recycling bins out on the curb. Other places offer recycling drop-off locations, where you can bring your items for recycling and put them into bins. Always check the rules and be courteous -- wash out glass and plastic containers, separate colored glass if it is required, remove caps, and follow any other restrictions put in place.
Other items that are important to recycle but are often forgotten are hazardous materials such as batteries, paint, electronics, pesticides, and motor oil. The reason these recyclable items are important is because they often contain toxic chemicals that can leach into the soil or groundwater. Contact your local recycling center to find out how to recycle these items, or any other recyclable items that you have questions about.
You should also remember that almost all metal items are recyclable. You can search online for companies that will pick up old metal appliances, fire extinguishers, and even old cars for spare parts. Generally, when you purchase a new set of tires, the company will take and recycle the old ones. This is occasionally true with new appliances or even big electronics purchases. It is a good idea to check and make sure.
Get creative with your recycling. If you buy a new computer, ask the company if they provide a recycling program for old computers -- frequently, you will be able to mail your old computer back to the company at little or no cost to you. If the company does not take your computer and it still functions well, consider donating it to a charity.
Donating items to a charity is a great way to recycle and help others at the same time. Consider donating furniture, toys, old clothes, eyeglasses, musical instruments, or even appliances. Old cell phones are often collected for soldiers to use while overseas. If you have a favorite charity, taking a moment to call and ask a few questions can help you plan ahead for donations.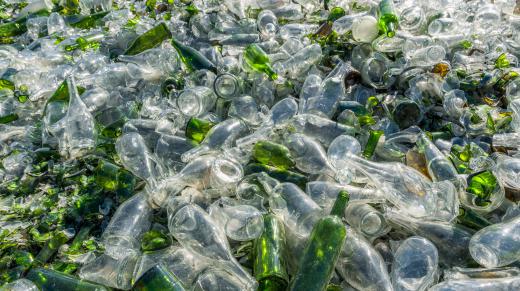 If you have old books, CDs or DVDs that you wish to get rid of, consider signing up for a trading service. It is easy to find a program like this online -- most will allow you to create a list of items you have along with a list of items you want. You will then be able to trade with other people without having to throw anything away.
There are other ways to live in an earth friendly way as well. Using reusable water bottles and eco-friendly canvas bags for grocery shopping can cut down on the amount of waste created and the amount of recycling you need to do. If you stop and consider it, recyclable items are everywhere. You just need to look.
AS FEATURED ON:
AS FEATURED ON:







By: Georgi Roshkov

Motor oil should be recycled.

By: prosotphoto

Old eyeglasses can be donated and reused.

By: Photographee.eu

Glass, plastic, and paper items are recyclable.

By: Moultipix

Glass and plastic are recyclable materials.

By: isonphoto

Metal items, such as an old fire extinguisher, are recyclable.

By: JRB

Newspapers are easily recycled.

By: simmittorok

Aluminum food cans may be recycled.

By: DARREN CLEARE

Computers are one item you should try to recycle in one way or another once they're obsolete.

By: Dennis Oblander

Aluminum, like that used in aluminum siding, can be melted down and recycled.

By: WimL

Plastic bottles used to store auto chemicals might not be able to be recycled.

By: Winai Tepsuttinun

Plastic containers may be accepted by recycling centers.

By: photka

Plastics, glass bottles, paper and cans can all be recycled into new items, saving energy and materials and reducing the amount of trash in landfills.

By: AustralianDream

When you buy a new set of tires, the old ones can usually be recycled.