Is Dry Cleaning Bad for the Environment?
Dry cleaning can help keep a favorite cashmere sweater in top condition, but it's not always the best choice for the environment. Perchloroethylene, also known as tetrachloroethylene, perc, PCE, C2Cl4, Cl2C=CCl2, or tetrachloroethene, is a solvent used by 90% of dry cleaners in the United States. Perchloroethylene is a highly effective cleaning agent, although it can result in color bleeding or loss if not used properly, but it is also toxic and causes several harmful side effects.
Some studies have indicated that perchloroethylene can cause menstrual irregularities, fertility problems, and spontaneous abortions among women who work in the dry cleaning industry. Its residue can also seep into drinking water, causing a variety of problems. For example, many scientists believe that exposure to this chemical can cause liver or kidney damage. In addition, it has been named a "probable carcinogen" by the International Association for Research on Cancer.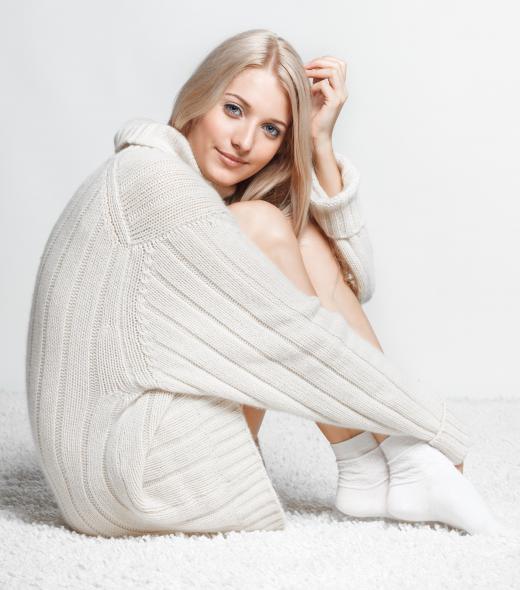 In response to customer complaints about the dangers of perchloroethylene, many dry cleaners have begun to investigate alternative cleaning methods. Hydrocarbon solvents such as Chevron-Phillips' EcoSolv or Exxon D-2000 work much like standard dry cleaning agents, but without the harmful side effects. Wet cleaning, a system that uses water and biodegradable soap, is an environmentally-friendly process that works well for silk, rayon, leather, suede, and wool garments. Liquid carbon dioxide obtained as a byproduct of certain industrial processes can be combined with silicone to create another effective, yet environmentally-safe cleaning method.
Unfortunately, since these "green" processes are relatively new, people who live outside of metropolitan areas may find it difficult to find a reputable dry cleaner who doesn't use perchloroethylene. Home dry cleaning kits that use plastic bags and specialized cleaning sheets are widely available, however, and provide a convenient way to freshen clothing while removing minor stains. Several studies have determined that these kits are less harmful to the environment than cleaning a garment with perchloroethylene. Using home drying kits between trips to a local dry cleaner is an inexpensive way to help reduce the environmental impact of the process.
While the process used to clean clothing does have a substantial effect on the environment, there are other factors that people may wish to consider when choosing a dry cleaner. For example, many have a policy of solvent recycling, plastic bag recycling, and hanger recycling. This can help protect the environment by reducing the amount of waste that ends up in local landfills. Some dry cleaners have also upgraded to "third generation" machines that are more efficient at minimizing the amount of harmful chemicals used during the cleaning process.
Minimizing the need for dry cleaning is a proactive step toward reducing environmental impact. To complement this effort, finding the best laundry sheets and incorporating them into your laundry routine for other clothes can further contribute to environmental sustainability.
AS FEATURED ON:
AS FEATURED ON:







By: Serg Zastavkin

Dry cleaning may be the only cleaning option for certain garments like cashmere sweaters.

By: Andrey Kuzmin

Dry cleaning often involves the use of perchloroethylene, which can seep into drinking water supplies.

By: nerthuz

Exposure to perchloroethylene, used by 90% of dry cleaners in the US, may cause liver damage.

By: Syda Productions

Exposure to perchloroethylene may cause fertility problems in women who work in the dry cleaning industry.

By: PRILL Mediendesign

Suede can be wet cleaned.