How is Carbon Dioxide Affecting the Earth?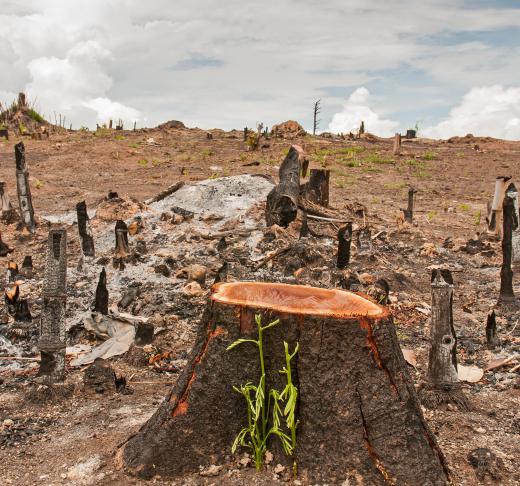 Carbon dioxide is a greenhouse gas, meaning that it is among a family of gases including water vapor, ozone, and nitrous oxide. Together, these gases make the Earth habitable, by increasing heat efficiency and keeping the temperature of the planet stable. The issue with carbon dioxide in particular is that there is currently more of it in the atmosphere than there should be, and it is starting to trap too much heat as a result. The extra heat trapped by the growing number of greenhouse gases is leading to a phenomenon called global warming.
Many things generate carbon dioxide naturally, including respiration, volcanic eruptions, and fires. In a natural cycle, much of this compound is taken up by trees, who use it for energy, producing oxygen as a byproduct. Carbon dioxide is actually a very important greenhouse gas, and an important part of the process that makes Earth so pleasant to live on. The amount being generated, however, started to outstrip the Earth's abilities to handle it in the 20th century. As a result, a steady rise in the atmospheric gas was observed, and scientists also began to link it with a slow creep in global temperatures. The difference of only a few degrees in annual average temperatures has the potential to be devastating, and many nations are beginning to be concerned about carbon dioxide.
Two things are contributing to the rise of carbon dioxide levels. The first is the generation of large amounts of the compound through the burning of fossil fuels like gasoline. Fossil fuels contain large amounts of carbon, which reacts with oxygen when burned. Since many industrial nations base their society on industries that rely heavily on fossil fuels, dangerously large amounts of the gas are being generated. The second issue is a decline in organisms, like trees and plankton, that would normally process this compound. This is also a problem caused by the activities of humans, which have led to widespread deforestation and ocean pollution.
Rising levels of carbon dioxide in the atmosphere appear to be clearly linked with the rise in global temperature. The international dispute over global warming is not centered on whether or not it is happening, in most cases, but whether or not it is part of a natural cycle. People who do not believe in global warming suggest that global weather runs in cyclical patterns, and the global warming trend is a natural spike in global temperatures, despite the unprecedented rise in carbon dioxide levels. Scientists who have studied ancient climate models, however, argue that global warming is accelerating very rapidly, and far more dramatically, than past climate change. These scientists believe that global warming is being caused by humans, and that our growing emissions need to be checked before it is too late.


By: yotrakbutda

Widespread deforestation is believed to have contributed to a rise in carbon dioxide levels.

By: sint

A man filling up his gas tank. Gasoline-powered cars release carbon dioxide into the atmosphere.

By: designua

Carbon is continuously being absorbed in the process of photosynthesis, which uses carbon dioxide to create carbohydrates.

By: mtilghma

Putting a halt to deforestation is one way to reduce carbon dioxide emissions.