How Do I Choose the Best Tick Repellent?
When choosing a tick repellent for you or your family, you should first look at the active ingredient in each. Typically a chemical known as diethyltoluamide (DEET) is considered the best insect and tick repellent. This has an unpleasant smell, though, and a natural tick repellent is typically more pleasant and less toxic. For pets, you will want to choose a natural repellent or a repellent specifically formulated for pets.
Not all tick products are created the same. Tick repellents can be purchased for both humans and pets. If an insect or tick repellent is designed for humans, it should not be used on pets. Additionally, tick repellents for pets should never be used on humans.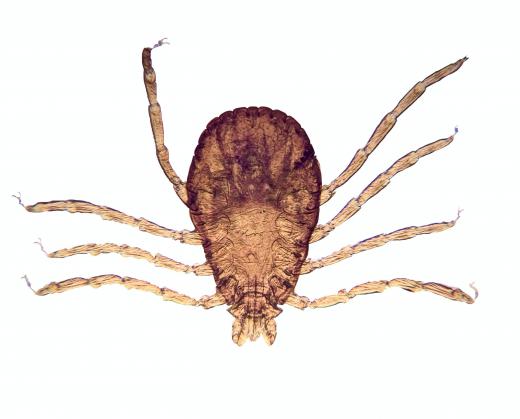 If you are looking for a tick repellent for humans, you should look at the active ingredients. Most insect and pest repellents for humans will contain DEET. This chemical is considered one of the most effective at repelling insects, including ticks and mosquitoes. Generally, the more DEET that a tick control product contains, the more effective it will be.
Besides being potentially harmful to the environment, DEET also has a rather unpleasant odor. It can also possibly cause skin irritation in some individuals. In this case, a natural tick repellent can be used, although it will most likely not be as effective.
Certain essential oils can be used as tick repellents. These usually smell better than DEET, and they are considered to be less toxic to the environment. Citronella, rose geranium, and lemongrass oils can all be used as insect repellents. These will usually need to be diluted with another oil or alcohol, however, before being applied to the skin.
Apple cider vinegar and garlic are also considered to be tick repellents. Like DEET, these also smell rather unpleasant. Instead of applying them to their skin, many individuals choose to use these as organic tick repellents for their pets.
A commercial tick repellent for your pet can also be purchased from a local pet store. There are several different types of tick repellents for pets. Tick spray or powder can be applied directly to your pet's coat to repel ticks. Some tick shampoos can also be used to prevent ticks. Flea and tick collars can also be worn by pets to help prevent a tick infestation.
Certain clothing can also help protect you from ticks, especially when paired with a quality tick repellent. Long sleeves and pant legs should always be worn when walking in wooded areas. You should then cover your clothing and skin with the tick repellent. Special care should be taken when applying it to the head and face to avoid getting it in the eyes, nose, or mouth.
AS FEATURED ON:
AS FEATURED ON:







By: Carolina K Smith MD

A brown dog tick.

By: Bert Folsom

Citronella candles can help deter ticks.

By: Comugnero Silvana

Apple cider vinegar is considered to be a tick repellent.

By: Viktor

Repellents containing DEET are effective at preventing ticks, but so are some natural oils, such as Citronella, rose geranium and lemongrass.