How Do I Care for a Baby Parakeet?
When caring for a baby parakeet, the parents will do most of the work. Still, it's important to prepare by providing a nest box, bedding, and plenty of food for the breeding pair of adult parakeets. Parakeet owners can check periodically to make sure the parents are caring for the baby parakeet and that it is developing normally.
A nest box can be purchased at pet stores and bird supply stores. Many of these can be found online. The nest box ideally should be mounted outside the cage for free-roaming parakeets. If the birds are not free-roaming, the box can be mounted on the outside of the cage with cage wires cut so budgies can access the nesting box without leaving the cage.
Parakeets should have access to bedding material, like pine chips, to build their nest. Proper amounts of bedding will prevent a baby parakeet from developing splayed legs. A wooden insert with a concave bottom for the nest box will also help prevent this problem.
Like the cage, the nest box should have adequate amounts of light during the day and should be covered at night. Adult parakeets will be hungry while caring for a baby parakeet. It's important to provide them with extra food and fresh water during this time. Bird seed, vegetables, and fruit can be offered, but must be organic.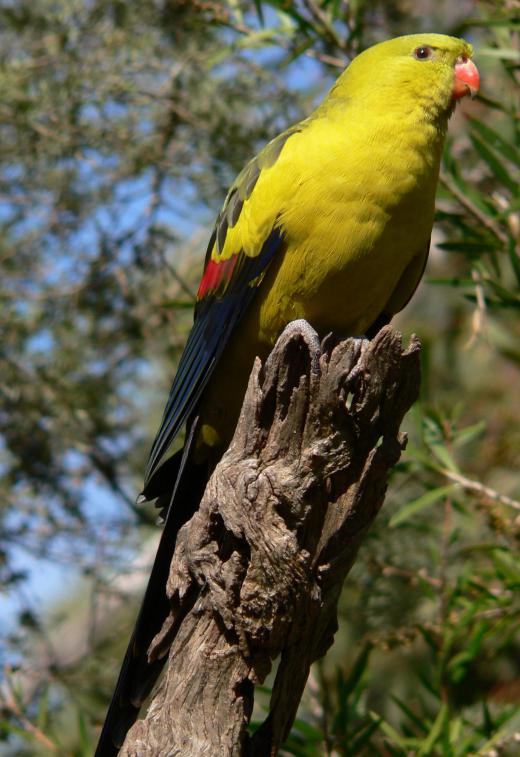 For the first few weeks of the baby parakeet's life, the mother will do most of the care, providing warmth from her body and feeding the chick pre-chewed food. After hatching, chicks will be completely helpless and blind. The chick will develop quickly and stay with the mother in the nest for three to six weeks.
The nest box should be checked periodically for debris and dead chicks. If a chick dies, it should be removed immediately to prevent disease. Living chicks can be checked for splayed legs. If this developmental problem happens, it can be corrected if caught early because the chick's bones are still developing.
A baby parakeet may be handled with clean, washed hands, but it should be touched as little as possible. If the adults reject the baby parakeet, it may be hand-fed using a syringe and commercially prepared parakeet chick food. Younger baby parakeets may be fed five times a day, while older ones need to be fed only twice a day.
After several weeks, the parents will stop feeding the chick and leave the nest. They will attempt to call the babies out of the nest. If the budgie chicks do not leave within about two days, they are at risk of starving to death. They may be gently removed at this point and should begin to behave much like adult parakeets.
What Do Baby Parakeets Eat?
In the wild, baby parakeets eat fruit and insects that their parents provide. Adult parakeets eat a variety of seeds, grasses, fruits, vegetables, nuts, and insects; the exact combination differs by species and habitat.
When Do Baby Parakeets Open Their Eyes?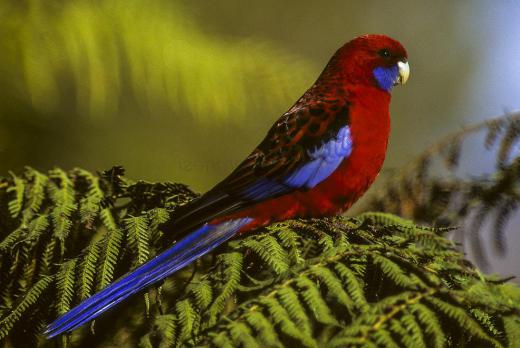 Baby parakeets open their eyes when they are nine or 10 days old, which is when they imprint on their parents or human caretakers. By this age, they are also moving around and interacting with other chicks and their parents more than they did when newly hatched.
When Do Baby Parakeets Leave the Nest?
Most baby parakeets leave the nest when they are between 30 and 40 days old. At this stage in their development, they can eat solid food and fly, and they have all their feathers. However, they are still not completely grown.
What Do Baby Parakeets Look Like?
When they first hatch, baby parakeets have no feathers at all and their eyes are closed. By the time their eyes open, they have grown some down. When they are about two weeks old they start growing pin feathers, which are small, stiff "roots" that eventually develop into full-sized feathers. Although these feathers are fully developed when the parakeet is 30 to 40 days old, they aren't the same colors that the bird will have as an adult. At 10 to 12 weeks old, a parakeet has its first molt, which is the natural process of losing feathers and replacing them with new ones. This process usually takes several weeks and happens in patches across the bird's body. Shed feathers are replaced by pin feathers which develop into mature ones. After its first molt is complete, a baby parakeet will have its adult colors. Before the first molt, a parakeet will have wavy black lines across its entire head; afterward, the head is a solid color. Domestic parakeets can be blue, green, white, or yellow; some have more than one color.
How Long Do Parakeets Live?
Different species of parakeets have different lifespans. For example, the budgerigar ("budgie") parakeet, which is one of the most popular species for pets, usually lives for five to eight years in captivity, while monk parakeets typically live between 20 and 30 years. Other species have life spans ranging anywhere from five to 30 years. A pet parakeet's care and diet can make a big difference to how long it lives, although there are also genetic factors at play.
Can Parakeets Talk?
Many species of parakeets, including budgies, are capable of learning human words, though not all species are equally talented, and parakeets' "speaking voices" are usually not as clear as those of larger birds such as macaws. Adult parakeets naturally communicate with a variety of chirps, squawks, tweets, and other sounds, and they often combine their favorite noises into a rough sort of song. Parakeets are more likely to learn human words if they hear them frequently before they are a full year old. Some pick up words on their own while others need specific coaching, and males are more likely to learn human words than females. It's generally agreed that birds don't understand the meanings of human words, but many can be trained to speak a particular word or phrase in response to gestures or verbal commands.
What Toys Do Parakeets Like?


Toys are important for keeping pet parakeets content, though individual birds have their own likes and dislikes just as humans do. Parakeets may enjoy swinging and climbing, perching at various heights, foraging for treats, chewing, ringing bells, or rolling balls.
Do Parakeets Need Baths?
Most parakeets enjoy bathing themselves by splashing around in a shallow dish of water, but if a particular bird is not inclined to do so, a human caretaker should provide regular showers by using a spray bottle set on mist and filled with lukewarm water. Soap is unnecessary and parakeets will dry themselves as long as they are in a warm room.
What Sort of Vet Care Do Parakeets Need?

Like dogs and cats, parakeets should have annual veterinary check-ups. A newly acquired parakeet should have an initial exam right away to check for any diseases or other health problems (this is especially important if the new bird will be introduced into a household with other pets). A baby parakeet should be able to leave the nest before having its first vet exam unless it is showing signs of illness or injury. All pet birds should be treated by vets who specialize in avian care.
AS FEATURED ON:
AS FEATURED ON:







By: Lasse Kristensen

A baby parakeet should only be handled with clean, washed hands.

By: susan flashman

Baby parrots require a suitable cage, proper feeding and a quiet place.

Many budgerigars, or parakeets, have distinctive black and white stripes on the back of the neck and wings.

Breeders can inform new owners on how to feed and care for their baby parrots.