How Can I Treat Cat Dandruff?
If you are looking for an effective way to treat cat dandruff, you should first rule out any possible health reasons for your cat's dandruff, so schedule an appointment with your veterinarian. After confirming your cat is in good health, you might want to modify her diet. The cat dandruff may be a result of overly dry skin, so adding more moisture to her diet could help. You can do this by feeding semi moist food along with the usual dry food. Nutritional supplements made for cats may be another way to control cat dandruff.
Try cutting back on dry food and adding a high-protein canned variety to your cat's diet. A diet that contains salmon is a good choice for healthy skin and a dandruff-free coat. Sardines and herring given as an occasional treat may add some oils to your cat's diet as well. In addition, you might want to put a few drops of cod liver oil into your cat's daily food. Fish oil can help control cat dandruff as well.
For dry, flaky, or itchy skin, try raising the humidity level in your home. You can do this by using a cool mist humidifier or placing some shallow pans of cool water around the house. Also, be sure the cat has access to fresh drinking water at all times.
If your cat is overweight, this could be a contributing factor to her skin issues. Cat dandruff is more commonly seen in overweight cats, so be sure your cat is at a healthy weight. Ask your veterinarian for advice regarding special diets for overweight cats.
Check for fleas or mites on your cat's fur. Any type of parasite may cause cat dandruff. If your cat has fleas, you should have her treated with a medicated solution and use a flea collar for added protection.
To avoid any further infestation and more flaking, keep your cat indoors. An indoor cat will be safer and less likely to become affected by parasites. Keeping your cat indoors will also prevent her skin from drying due to sun exposure.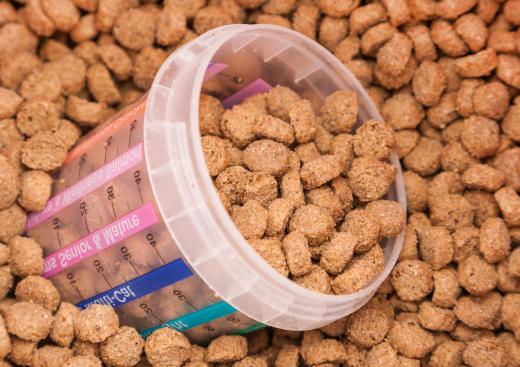 One more thing to try to control cat dandruff is a special medicated shampoo. You might be able to find something suitable at your veterinarian's office or pet supply store. Before trying something new, however, it's a good idea to get the approval from your veterinarian.
AS FEATURED ON:
AS FEATURED ON:







By: dulsita

Salmon can help cats have a healthy coat free of dandruff.

By: sytnik

Dry cat food might not be best for a cat dealing with dandruff.

By: Klaus Eppele

Keeping cats at a healthy weight can help prevent dandruff.

By: antonsov85

Keeping cats regularly groomed can help reduce dandruff.