Did the Department of Homeland Security Recruit Border Patrol Agents with an Ad in a Hunting Magazine?
Yes. The U.S. Department of Homeland Security or DHS (more specifically, U.S. Customs and Border Protection) placed a full page ad in the December/January 2008 issue of Outdoor Life magazine.
The majority of the ads in the December/January 2008 edition of Outdoor Life were for hunting-related products and a few were for products unrelated to hunting. While these advertisements seem to have their place in a hunting magazine, the US Border Patrol ad might stick out to some viewers as offensive.
You have hunted quail in Arkansas, wildebeests in the Serengeti, and grizzlies in Alaska! Come join us at the Border Patrol, and you can pursue the most elusive of all creatures — the Homo Sapien Sapien!
Now, that's obviously an exaggeration; this particular ad doesn't come close to making such a claim, but it isn't as far fetched when you consider the context of the ad. Here are some cropped thumbnails of photos that were published in the same issue as the Border Patrol's recruitment ad:
In defense of the agency, it is probably safe to assume they were targeting the specific demographic the magazine reaches. Targeting specific audiences is standard advertising practice; it is likely that there is a significant overlap between the readership of Outdoor Life and the types of candidates that go on to become effective agents.
Nevertheless, it seems that it would have been more prudent for the Department of Homeland Security to recognize the potential sensitivity of the issue and find more appropriate recruiting outlets. The problem has nothing to do with the recruiting of agents, nor with hunting itself; the issue at hand is the recruiting of Border Patrol agents in a hunting magazine.
This is not the first time the Border Patrol has been accused of being insensitive with its advertising. In 2007, the NFL pulled Border Patrol ads from 200,000 Superbowl Program Guides. According to FOX News, the NFL claimed that "... words like 'terrorists,' 'illegal aliens' and 'drug smugglers' wasn't (sic) appropriate for that venue."
The Border Patrol ad that Appeared in Outdoor Life: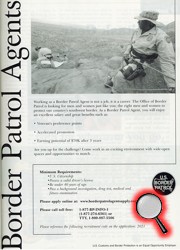 AD COPY: Working as a Border Patrol Agent is not a job, it is a career. The Office of Border Patrol is looking for men and women just like you; the right men and women to protect our country's southwest border. As a Border Patrol Agent, you will enjoy an excellent salary and great benefits such as:

Veteran's preference points
Accelerated promotion
Earning potential of $70K after 3 years.

Are you up for the challenge? Come work in an exciting environment with wide-open spaces and opportunities to match.

Minimum Requirements:

U.S. Citizenship
Possess a valid driver's license
Be under 40 years of age
Pass a background investigation, drug test, medical and fitness examination
Other full-page ads and spreads in the same issue of Outdoor Life include:
Toyota® Tundra truck
Yamaha® Grizzly ATV
Skoal® Smokeless Tobacco
Cabela's® Hunting, Fishing and Outdoor Gear and Supplies
Honda® ATV
Garmin™ GPS-enabled Dog Tracking System
Verizon® Wireless Service and Phones
Remington® Electric Shaver
Leatherman® Multi-Purpose Tool
Stauer® Diamonds
Dickies® Clothing
Polaris® Ranger Off-Road Utility Vehicle

Dinty Moore™ Stew
Canadian Mist® Whiskey
Suzuki® Off-Road Utility Vehicle
Cope® Smokeless Tobacco
DPMS Firearms
Bass Pro Shops® Fishing Store
First Federal Coin Corp Silver Dollars
Geico® Vehicle Insurance
Sleep Number® Beds
National Rifle Association of America (NRA)
Redman® Snuff
John Deere® Vehicles
More images from the same issue of Outdoor Life Magazine