Almandine is a mineral that belongs to the garnet group. It is the most common of the garnets, and is usually red to brown in color. Sometimes, it is so dark red that it appears to be black. Other possible colors found in this mineral include slight shades of purple or orange, and white streaks. It is sometimes called almandite, though this is generally considered a misnomer.
In terms of chemical makeup, almandine is an iron aluminum silicate. This means that it contains the chemicals aluminum, iron, silicon, and also oxygen. It can be either part of the Almandine-Pyrope Series of minerals, or the Almandine-Spessartine Series of minerals, due to chemical similarities with other members of these series. Crystals of this mineral are often found in metamorphic rocks, which are rocks that change type due to environmental factors such as pressure and heat. It is also found in pegmatite rocks, which are formed by through the melting and cooling of other rocks.
Etymologically speaking, the name almandine is thought to be an alteration of alabandicus, the name of a stone found in town of Alabanda in the country of Turkey. The common names used for this mineral often change depending on where the mineral specimens are found or whether they are tinted a certain color. For example, specimens that exhibit a purple tone is sometimes called Syrian garnet.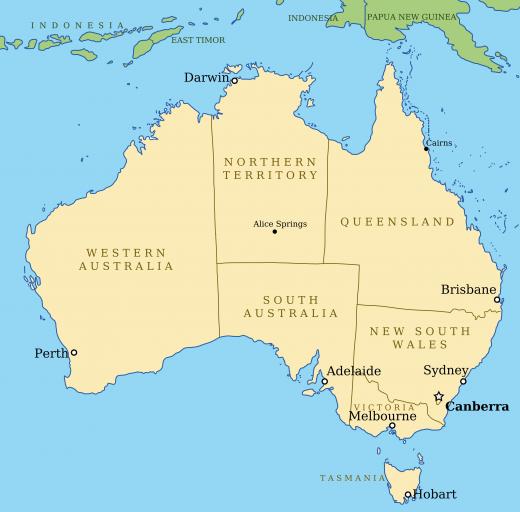 Almandine is found in large quantities in Sri Lanka. Those specimens found in Sri Lanka are sometimes called Ceylon-rubies. When a large deposit was discovered in South Australia, the mineral took on the common name Australian ruby, which it was called for a period following this discovery. It can also be found in the Zillertal valley in Tyrol, Austria, and in German East Africa. It's also found across many parts of the United States. For example, in Alaska, the mineral is often found embedded in mica-schist rocks.
In addition to being used as a gemstone, almandine is used may be used in industrial products as an abrasive. It may also be called Adelaide-ruby, Almandine Garnet, Oriental Garnet, Almandino, Alabandine Ruby, and Alamandine.
AS FEATURED ON:
AS FEATURED ON:







By: bogdanserban

Almandine can be found in the Zillertal valley in Tyrol, Austria.

By: Tupungato

When a large deposit of Almandine was discovered in South Australia, it took on the name Australian ruby.