A sight hound is a breed of dog developed to find prey by sight and then pursue it. Sight hounds are bred to be extremely alert, fast, and agile so that they can quickly identify and overcome game in a variety of sizes, from rabbits to deer. Sight hound breeds are often readily recognizable thanks to the distinct sight hound body type which has developed over the centuries. By contrast, scent hounds have been bred to identify and track prey by scent.
A classical sight hound is very leggy, with large, powerful feet which provide lots of traction when the dog runs. The body is elongated and extremely lean, with strong muscles, especially around the hind legs. Typically, sight hounds have large chests to accommodate their unusually large hearts, and their snouts are elongated to assist them in targeting and tracking prey visually. They often have very alert, intelligent expressions.
These dogs are sometimes referred to as gazehounds, because they spend much of their time watching the horizon for prey. When a prey animal appears, the sight hound can be off like a shot to capture it, using its agile body and sprinting ability to catch up with the prey before exhaustion sets in. This coursing or chasing behavior can be quite visually striking, especially once the dog hits its stride.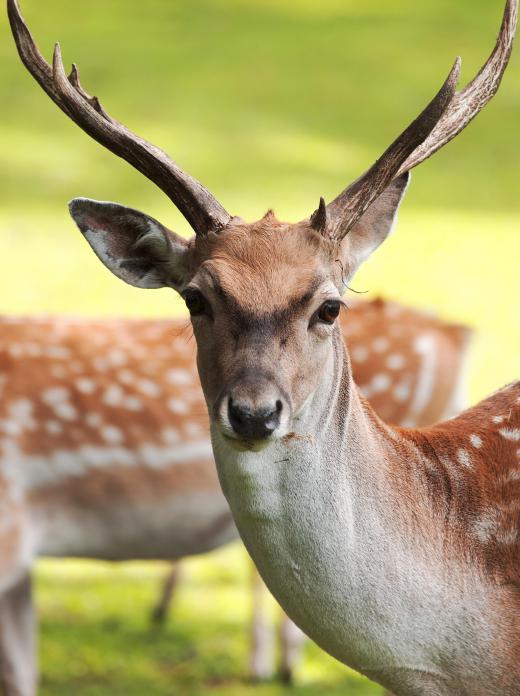 Some examples of sight hound breeds include: whippets, salukis, greyhounds, wolfhounds, Afghan hounds, and borzoi. Sight hound breeds have existed for thousands of years, as numerous works of art attest, and many of the modern sight hound breeds have changed little in the last hundred years or so. These hunting dogs have also historically been used in dog racing, where their ability to attain rapid speeds is highly prized.
In some regions of the world, people keep sight hounds as pets. While these animals can be good pets, they need to be handled carefully. Sight hounds need lots of exercise, and they tend to chase objects they identify as prey if they are not properly trained. They can also become extremely nervous and snappy when handled poorly, and they become cold easily, because they lack the insulating layer of fat common to most dogs. Sight hounds need to be kept indoors or they need access to a warm kennel, and they require a lot of attention and training, especially in the first three to five years of their lives.
AS FEATURED ON:
AS FEATURED ON:







By: rusugrig

Sight hounds might be employed to chase rabbits.

By: satori

Sight hounds are able to track animals, such as deer, by sight instead of scent.