What are the Most Common Causes of Pollution?
Pollution is a worldwide problem that affects air, water and soil. Various human activities, mainly since the industrial revolution, have created waste products that have simply been released into the environment without any thought being given to their effects. Although awareness of the issue has grown, and various reduction measures have been implemented — sometimes successfully — it continues to be a major problem. The most common causes of pollution are the burning of fuel, over-use of fertilizers and pesticides, carelessness, and the improper disposal of waste.
Air Pollution
By far the biggest source of air pollution is the burning of fossil fuels. Oil, gas, and coal are burned on a huge scale, releasing a variety of pollutants into the air, including carbon dioxide (CO2), sulfur dioxide (SO2), nitrogen oxides (NOx), carbon monoxide (CO), volatile organic compounds (VOCs), and particulates, such as smoke and soot.
Fossil fuels consist mainly of hydrocarbons — compounds of carbon and hydrogen. When they burn, the carbon combines with oxygen to produce CO2. Often, however, the combustion is not complete: some of the carbon forms carbon monoxide (CO), and some remains as carbon, forming smoke and soot particles.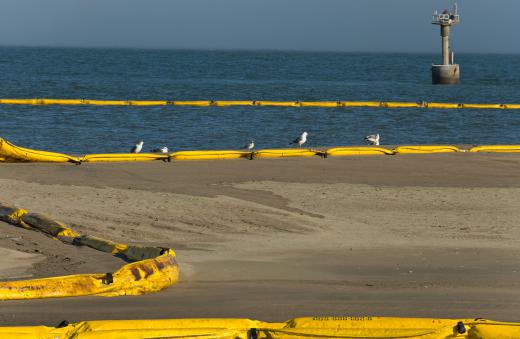 Among the causes of pollution of this type, the automobile is probably the biggest. Vehicle exhausts are a major source of carbon dioxide, which contributes to global warming, and toxic carbon monoxide. At the high temperatures in the internal combustion engine, nitrogen and oxygen in the air can combine to form nitrogen oxides. Nitric oxide (NO) forms initially, but later tends to combine with oxygen again to form nitrogen dioxide (NO2), which is a severe lung irritant and contributes to acid rain. Vehicle exhaust also contains soot particles and VOCs resulting from uncombusted gasoline.
Large amounts of fossil fuels are burned at electricity generating stations. As well as CO2, coal powered stations produce significant amounts of sulfur dioxide, a major contributor to acid rain. All fossil fuels contain sulfur compounds, which, on combustion, produce SO2, but most of these are removed from oil and gas at treatment plants before they are used. This, however, is not possible for coal.
Water Pollution
Pollution of rivers, lakes, and the oceans can come from many sources. Sometimes the source is easily traced — it may be a pipe that discharges wastewater into a river, for example. Tighter regulations have almost eliminated this kind of pollution in some countries, but it continues to be a problem in others. Discharges of toxic industrial waste into rivers can devastate aquatic life, and the release of sewage into waterways can spread dangerous bacteria.
In many cases, the causes of pollution are less specific. Wastewater from homes is subject to treatment before it reaches rivers, but water that runs off farmland, plantations, roads and gardens is not. It may contain a variety of pollutants, depending on its source.
Water from farmland may contain fertilizers or pesticides. Fertilizers can cause uncontrolled growth of algae, which use up dissolved oxygen in the water, killing off fish and other organisms that require it. Pesticides may harm some forms of aquatic life directly. Other forms of pollution can result simply from carelessness by people going about their everyday business. Chemicals — such as oil, cleaning products, and antifreeze — which have been improperly disposed of, or spilled and not cleaned up, can easily be washed into rivers by rainwater runoff, as can litter thoughtlessly dropped on a street.
Air pollution can also affect water quality. Sulfur dioxide and nitrogen oxides react with rainwater, forming acids, which can then accumulate in lakes, acidifying the water. Some aquatic plants and animals are very sensitive to changes in pH, or acidity-alkalinity, and may be adversely affected.
Soil Pollution
Soil can be contaminated by chemicals from industrial premises, mining activities, and landfill sites, as well as by water containing pollutants from other sources, such as agriculture and even domestic activities. Pollutants in soils can sometimes persist for a long time. This applies particularly to former industrial sites where toxic metals have been deposited. Although the use of lead in gasoline was phased out in the late 1970s, levels of lead remain relatively high in soils close to areas with heavy traffic.
Landfill sites can contain a wide variety of industrial and household wastes, often consisting of materials that cannot be recycled, or which were thrown away before recycling became common. Leakages of industrial chemicals, gasoline, cleaning products, and substances from batteries can pollute the surrounding soil and may get into the groundwater, spreading the problem, or even threatening drinking water supplies. Soil pollution can also result from acid rain. The soil may become acidified, affecting plant life and organisms further up the food chain.
Reducing Pollution
Many of these causes of pollution are things that ordinary people can help to tackle. Leaving the automobile at home and walking or cycling to work, if practical, could make a difference. Alternatively, using public transport, even if it burns fossil fuels, is better than driving: 30 people on a bus create far less pollution than 30 separate automobile journeys. Other measures include avoiding over-use of fertilizers and pesticides in the garden, not dropping litter, and ensuring that household chemicals and empty containers are properly disposed of.
AS FEATURED ON:
AS FEATURED ON:







By: nikitos77

Mining can contribute to soil pollution.

By: Pshaw-Photo

Oil booms being used to limit the spread of an oil spill in the ocean.

By: Sinisa Botas

Overuse of fertilizers can pollute waterways.

By: torsakarin

Factories produce large amounts of air pollution.

By: designsstock

Improperly disposing of vehicle fluids, such as antifreeze, can cause pollution.

By: surpasspro

The pollution of rivers, lakes, and oceans come from a variety of sources.

By: Paper Girl

Certain types of pollution can use up dissolved oxygen in water and kill large groups of fish.

By: Leon Forado

Traditional commercial pesticides can have a lingering toxic effect not only on humans but also on the environment.